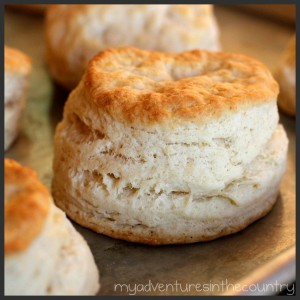 I have been wanting to share this recipe for quite some time, but it seems like each time I decided to make it, time got away from me and I never made it around to taking photos.  But, I made time Sunday morning, so I thought I would share it with you today.  This is also a great recipe to help celebrate National School Breakfast Week!
I posted my Monday's Mystery Recipe yesterday, where I shared an awesome Almond Poppy Seed Muffin from Diane Mott Davidson's book, The Last Suppers.  And today, I'm sharing the best biscuit recipe I've ever made.  Seriously, this biscuit is flaky, moist, and quick to put together.  It's the perfect pairing to a big bowl of homemade stew or, my favorite, fresh out of the oven with a little butter and homemade marmalade.
I would also love to tell you that my experiments in the kitchen led to this marvelous concoction, but it actually comes from Better Homes and Gardens.  I hope you enjoy it as much as I do!
Biscuits Supreme
March 6th, 2012
Ingredients:
3 cups all-purpose flour (part white whole wheat also works well)
1 Tbsp baking powder
1 Tbsp sugar
1 tsp salt
3/4 tsp cream of tartar (or 2 1/2 tsp vinegar)
3/4 cup unsalted butter
1 cup milk
Directions:
Preheat the oven to 450°.  In a medium bowl, whisk together the flour, baking powder, sugar, salt, and cream of tartar.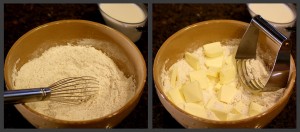 Cut the butter into tablespoon size pats and add to the flour mixture.  Using a pastry blender, cut in the butter until the mixture resembles course crumbs.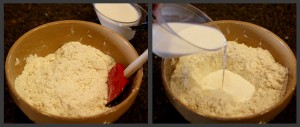 Make a well in the mixture and add the cup of milk.
Use a rubber scraper to slowly combine the milk and flour mixture.  Stir until the mixture forms a somewhat slightly sticky dough.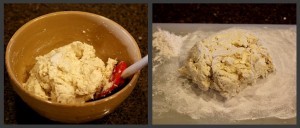 Prepare a work surface and lightly dust with flour.  (I prefer to knead the dough on a floured cutting board for easier cleanup.)
Knead 7-8 times, being careful not to overwork the dough.  You are not making a yeast bread, so stick with the 7-8 turns of the dough.  This will add just a small amount of extra flour and keep the mixture from being quite so sticky.  The less you work it, the more tender and moist your biscuits will be!
Flour your hands and pat the dough out into a circle that's about 3/4" - 1" thick.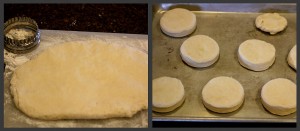 Using a floured biscuit cutter, cut out biscuits and place on an ungreased baking sheet, 1-2 inches apart. My cutter was a 3" cutter and I was able to get 9 full-sized biscuits.  I've used a 2 1/2" cutter and gotten 15 out of one batch of dough.
Place biscuits in 450° oven for 10-12 minutes.  Because these were a little larger, they took 12 minutes to bake.
Remove from the oven and serve warm.  These biscuits are absolutely wonderful with a warm pat of butter and some homemade marmalade.  I used my strawberry-lemon marmalade and it was delicious! Enjoy!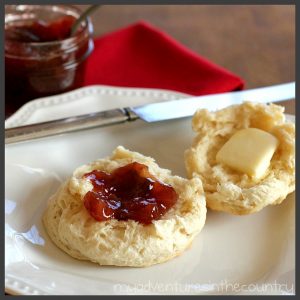 You Might Also Like: