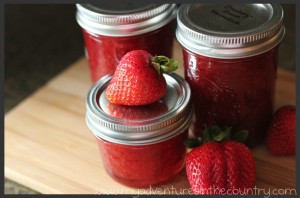 This summer, I decided I would try my hand at making jams, jellies, and marmalades.  I have made cherry jam previously, but never anything with strawberries and I'm not sure why because I love strawberries! So, I bought some strawberries and went to work.
Strawberry-Lemon Marmalade (From the Ball Blue Book of Preserving)
1 1/2 lbs strawberries, hulled
1/4 cup lemon peel, julienne style or thinly sliced
6 Tbsp of Pectin (I used Ball's Classic Pectin)
1 Tbsp fresh lemon juice
6 cups sugar
1/4 tsp butter or margarine (optional)
Directions:
Wash and hull your strawberries, then set aside to dry.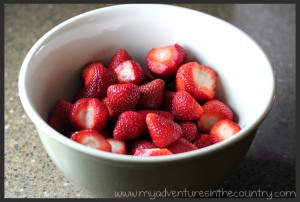 In the meantime, cover the 1/4 cup of lemon peel with water (just enough to cover the peel) and boil about 5 minutes, then drain.
While the lemon peel is boiling, layer your strawberries in a large pan or casserole.  You want something with a lot of surface area to make this process easier.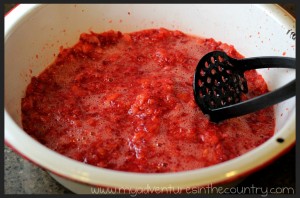 I used an old pan and it worked really well.  Mash your strawberries with a potato masher until they are well-crushed.  Transfer the strawberries, drained lemon peel, lemon juice, and pectin into a large pot.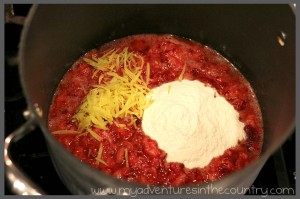 Add butter or margarine (this helps reduce foaming, but is not required.)  Slowly bring this to a boil.  Begin adding sugar, stirring constantly until all the sugar is dissolved.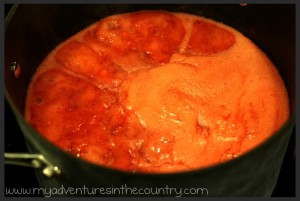 Once all the sugar is mixed in, bring this to a rolling boil and boil hard for 1 minute, making sure to stir constantly.  And be sure to have a long-handled spatula to do this….the mixture will rise considerably during the boiling process, which is what you want, but it will get close to your fingers!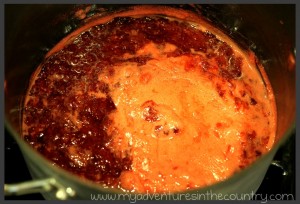 After the minute of hard boiling, remove pot from heat and skim foam.  I think it helps to let it cool down for 1-2 minutes before trying to remove any foam.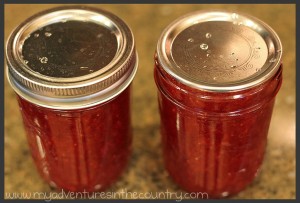 Ladle hot marmalade into prepared jars, making sure to leave a 1/4″ headspace.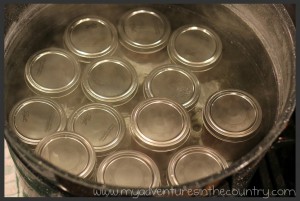 Add lids and wrings and process 10 minutes in a water bath.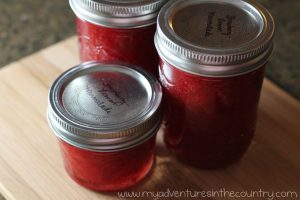 Remove jars from water bath and let set until dry.  And don't forget to label your jars! Homemade jams, jellies, and marmalades make wonderful gifts.  Process now while fruits are in their prime and you'll be one step ahead for the holidays!