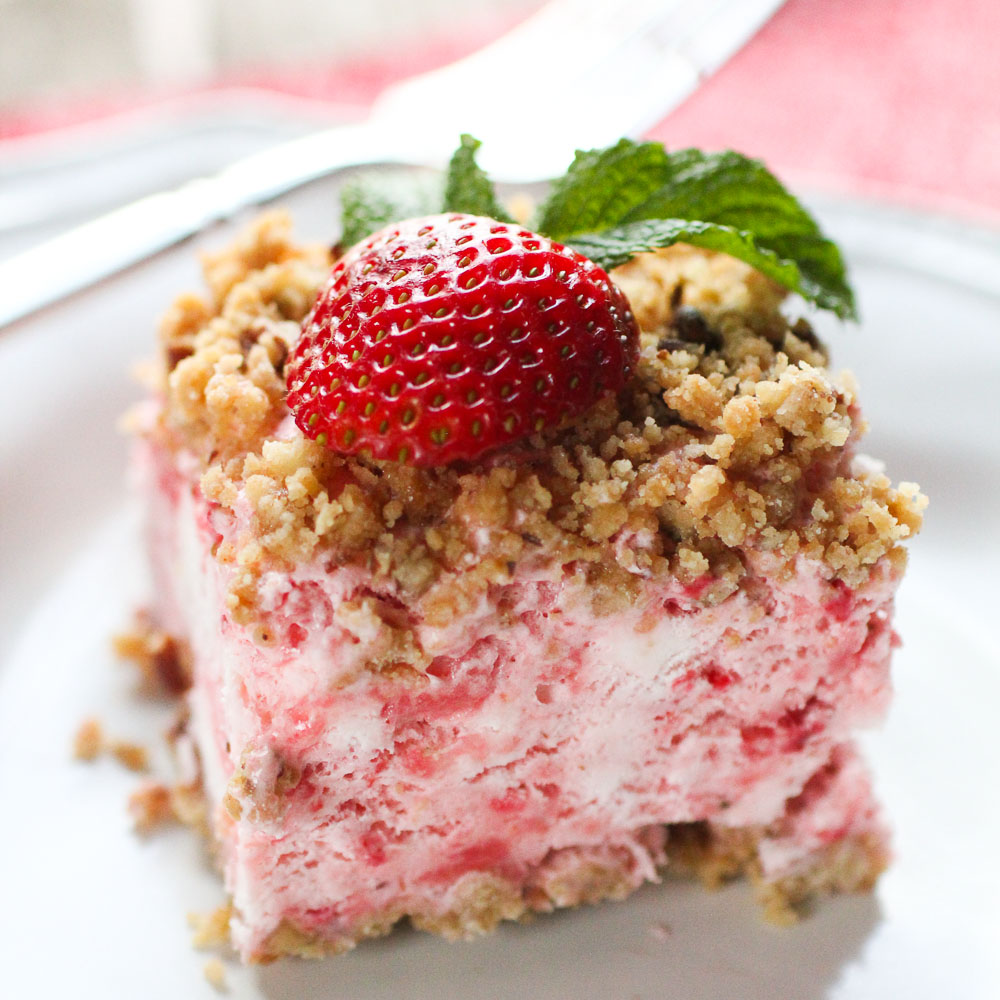 This recipe for frosty strawberry squares is one that's been in our family for many, many years.  I'm not sure where it originated, but I know when summer hits, it's one of our favorite recipes to make to beat the heat.  The fact that it's made with fresh strawberries at the height of strawberry season and a hint of zesty lemon juice, makes it the perfect dessert, in my opinion.
I remember my mom always making this recipe with walnuts, but I'm not a huge walnut fan.  I don't mind them, but I just prefer pecans, and since my mom and step-dad were coming to visit, and he's allergic to walnuts, I made sure to use pecans.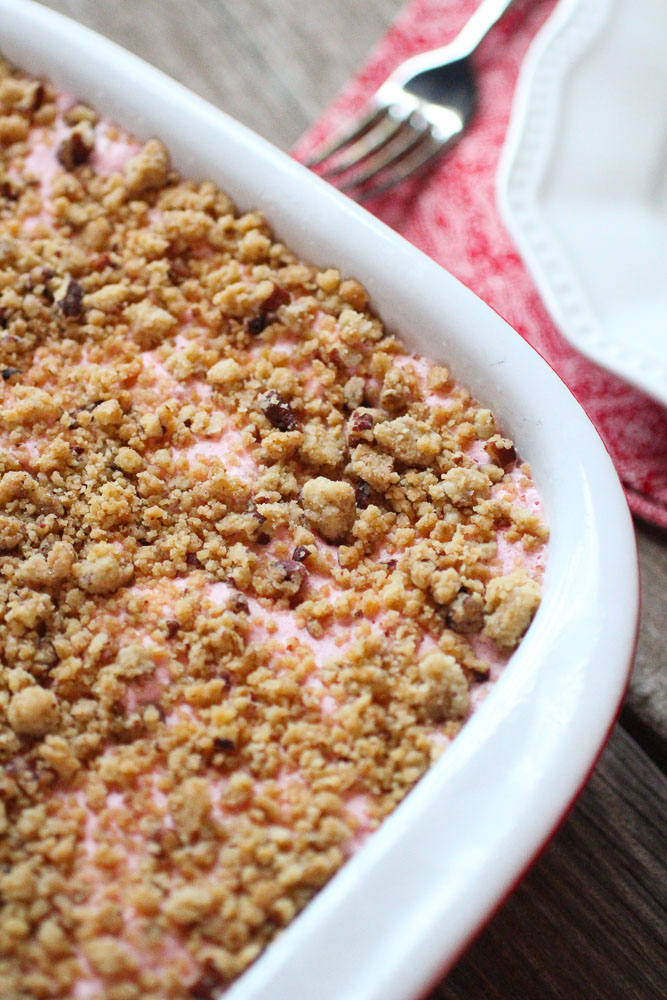 My dad loved black walnuts.  LOVED them.  In fact, he loved them so much, he planted walnut trees in our yard and down our driveway.  He also loved pecans, but not as much as walnuts.  And when I say he planted them down our driveway, I mean this.
Every other tree along our half mile driveway is either a walnut or a pecan tree.  He planted all those trees when they were a foot to a foot-and-a-half tall.  He also replanted many of them because the deer liked rubbing their antlers on them and killed them. We always got a kick out of Dad replanting the trees and talking about how big they would eventually be.
If he was still here, I know he'd be thrilled with how big the trees are now.  And he'd be super excited to eat these frosty strawberry squares.
Just a couple of quick notes about this recipe: First, it's delicious, but it's messy. Be prepared to wipe a few things down when you make this frosty treat.
Second, the original recipe suggests a 9×13 pan, but I used a 9×9 pan and it worked just fine.  You can see from the photo above, it was full to the brim, but it still worked.
You might have to adjust your freezing time a bit if you use the 9×9, but other than that I followed the same instructions.  Mine was in the freezer overnight and it was perfect.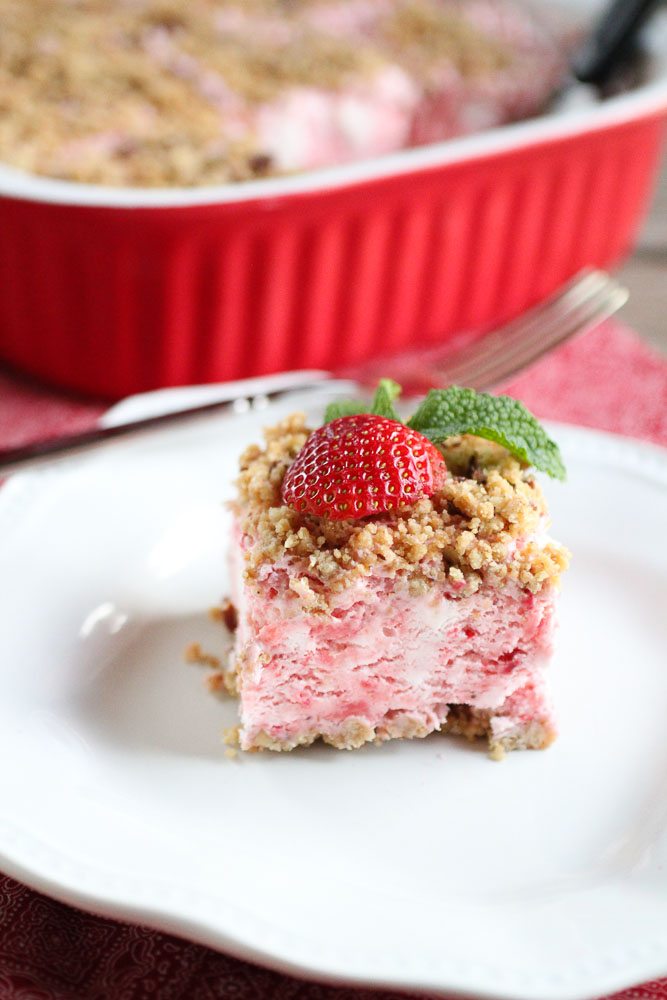 Frosty Strawberry Squares
July 13th, 2013
Yield: 12-16
Prep Time: 30 minutes
Cook Time:
Total Time:
Ingredients:
1 cup flour
1/4 cup brown sugar
1/2 cup chopped pecans
1/2 cup butter, melted
2 egg whites
1 cup sugar
2 cups sliced strawberries
2 Tbsp fresh lemon juice
1 cup heavy whipping cream, whipped
Fresh mint and strawberries for garnish
Directions:
Preheat oven to 350°. Combine the flour, brown sugar, pecans, and melted butter in a medium bowl. Stir until crumbly. Spread the mixture out onto an ungreased baking sheet and place in the preheated oven for 15-20 minutes or until lightly browned. Stir 2-3 times during baking. (Pecans will start to give off a nice nutty scent when this is done.) Reserve 1/3 of this mixture for the topping.
Once cooled, spread two-thirds of the cooled flour mixture in a 9x9 or 9x13 pan. Press mixture down to form a base crust. Set aside.
Next, combine the egg whites, sugar, strawberries, and lemon juice in the bowl of a stand mixer. Beat mixture with the paddle attachment until stiff peaks form, 6-7 minutes on speed 9 or 10. Set aside.
In another bowl, whip the whipping cream on high until stiff, about 2 minutes on speed 9 or 10. Fold the whipped cream into the strawberry mixture until well combined.
Once strawberry and whipping cream is combined, pour onto base crust and smooth to all corners. Sprinkle with reserved crumbs, cover, and freeze for 6 hours or overnight.
Let sit 10-15 minutes before cutting. Garnish with fresh strawberries and mint.
Notes:
If using a stand mixer, have a towel handy to cover the bowl while you whip the strawberry mixture together. It gets pretty messy.
You Might Also Like: