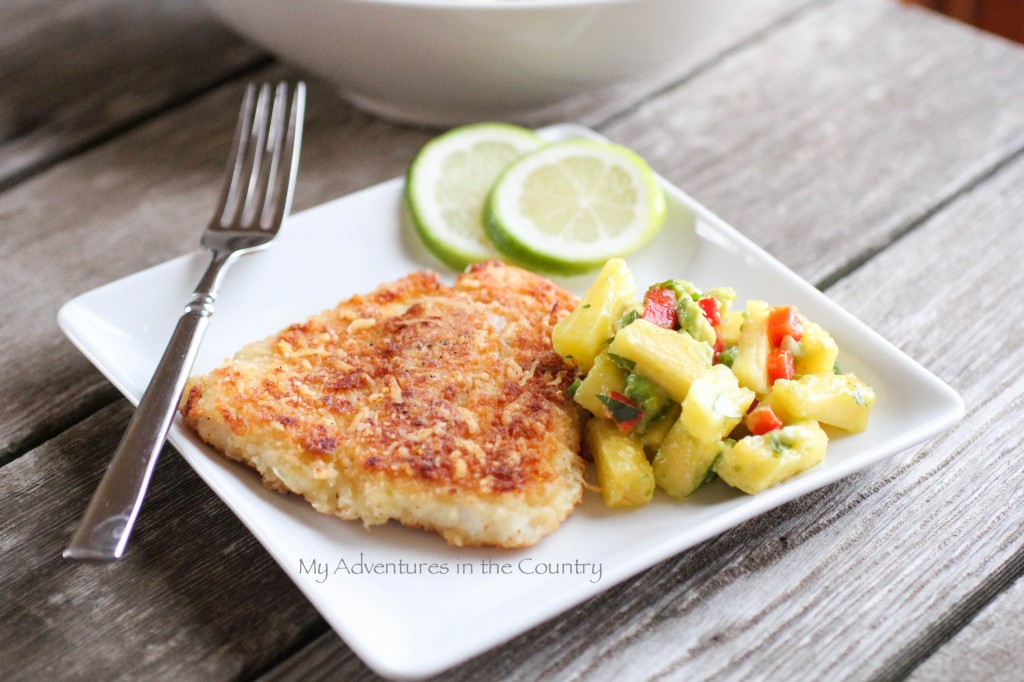 I'm a little embarrassed to admit it, but I don't really like fish.  I know it's healthy and relatively easy to prepare, but it's just not my thing.  I love to go fishing, but I'm more of a catch-and-release kind of gal. 😉 My husband can't understand it, but I've just never been one to keep what I caught.  So, whenever I ask him what he wants for dinner and he says fish, I cringe.  That is until now.
The idea for this breading came from a chicken recipe I made recently that combined breadcrumbs and Parmesan cheese.  It was so tasty, I decided to try my own version on our fish.  And boy, am I glad I did! This recipe turned out so crunchy and juicy that I actually enjoyed it! And another bonus…it goes together really quickly!
I chose Swai for two reasons. One, it was on sale at the supermarket, and two, it's a VERY mild tasting fish.  A necessity for me if I'm going to be able to stomach fish. 🙂 Tilapia would also work nicely here, as it too, has a very mild flavor.  The hubster commented that it would work well on any fish…that's how  much he liked it. 😉
This would also be a nice recipe to try if you're observing Lent and looking for a new fish recipe.  And something else we discovered, this fish and breading heats up quite well in the oven.  We obviously had leftovers and I just warmed them in the oven.  Not the exact crunchy texture from the night before, but they still had some crunch and lots of flavor.
I served ours with a nice pineapple salsa.  It added a bit of sweetness and flavor that paired really well with this dish.  That recipe coming soon. 😉
Panko and Parmesan-Crusted Swai
March 19th, 2013
Ingredients:
3 Swai fillets
1 cup Panko bread crumbs
1 cup flour
1 1/4 cups freshly grated Parmesan (This must be freshly grated.)
1 large egg
1/4 cup milk
3-4 tbsp vegetable oil
Salt and pepper to taste
Directions:
Start by washing and drying your Swai fillets. Next, prepare your breading. Combine your Panko bread crumbs, flour, and freshly grated Parmesan in a bowl or large plastic bag. *I highly recommend using fresh Parmesan. I don't think pre-grated cheese would melt as nicely.
Mix together your egg and milk until well-combined. Pour this into a shallow baking dish.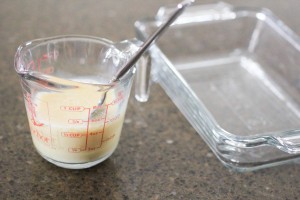 Cut your Swai fillets into more manageable pieces and set up an assembly line for the dredging.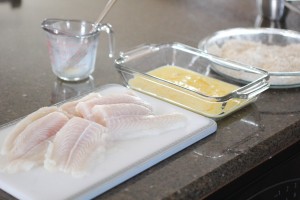 Coat your Swai pieces in the egg and milk mixture.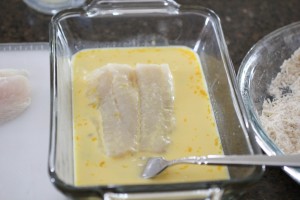 Then the Panko, Parmesan, and flour.
Set coated fish on a plate or baking sheet until all pieces are coated.
Next, heat 3-4 tablespoons of oil in a large, non-stick skillet. Add the Swai fillets and cook on medium to medium high heat for 6-7 minutes or until golden brown. (I only cooked part of my fillets at a time. I didn't want to crowd them in the pan.)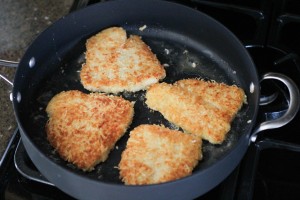 Flip fillets and continue to cook for an additional 4-5 minutes or until golden brown. Remove from pan. If cooking the rest of your fillets, additional oil may be needed.
Serve with fresh vegetables or a pineapple salsa. Enjoy!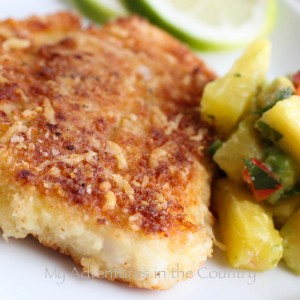 You Might Also Like: