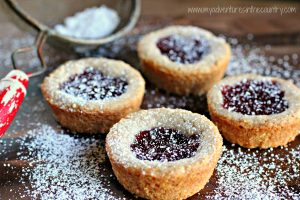 Well, I've lost my place in my current mystery book, again! It happened while I was making this week's raspberry tart recipe.  I grabbed the book off the counter and out flew the bookmark.  I've yet to find my place, but I did manage to make the recipe to share with you this week.  I decided to make just a few changes to it for personal preference, but nothing major.
I shared with you in last week's Monday's Mystery Recipe,  that I was into The Grilling Season, by Diane Mott Davidson, so I'm excited to share my first recipe from that book, Babsie's Tarts.  I had a fairly difficult time deciding which recipe to try and share with you, but due to time constraints, the decision was easily made for me.  These tarts are really quick and easy to prepare and very tasty!  You could also substitute any kind of jam in this recipe, if you prefer something else.
I tried them with both the powdered sugar and with a little vanilla ice cream and both were delicious.  The hubby also enjoyed them, so that was a bonus! So, this week's Monday's Mystery Recipe is Babsie's Tarts, from the Diane Mott Davidson novel, The Grilling Season.
Babsie's Tarts
April 23rd, 2012
Ingredients:
2 sticks unsalted butter, room temperature
3/4 cups fine granulated sugar
2 egg yolks, room temperature
1 1/2 tsp vanilla extract
zest from one lemon
1 1/2 cups all-purpose flour
1 1/2 tsp ground cinnamon
1/2 tsp salt
1 tsp baking powder
1 1/4 cup package of blanched, slivered almonds, finely ground
1 15.5 oz jar of seedless raspberry jam
Directions:
Preheat the oven to 350°. Cream the butter and sugar together until light and fluffy.  Gradually add the egg yolks, vanilla, and lemon zest.  Scrape down the sides of the bowl as you are mixing.
Whisk together the flour, ground cinnamon, salt, and baking powder.  Gradually add this mixture to the butter mixture and stir until well-combined.  Add the finely ground almonds and mix until combined.
Prepare two, 12-cup muffin tins by spraying with non-stick cooking spray.  Using a small cookie scoop (about 2 Tbsp size), scoop dough into 24 muffin cups.  (Mine made exactly 24.)  Pat the dough evenly around in the bottom of the muffin tin.  You don't want there to be an indention in the dough, just even it out.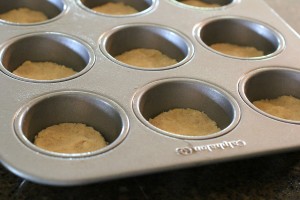 Next, use a teaspoon to measure out 2 teaspoons of raspberry jam onto the top of each section of dough.  Work your way around until you've added jam to each tin.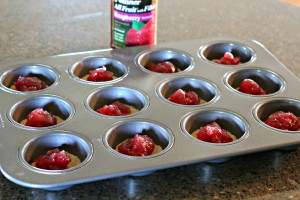 Once all the tins have jam, pop them in the oven for 15-16 minutes or until the dough raises up around the jam and is slightly brown around the edges.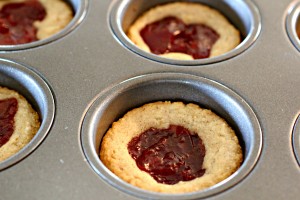 Once the tarts come out of the oven, allow them to cool in the pans until cool to the touch, about an hour.  The tarts are soft when they come out of the oven and might be too tender to take out while still warm.  I let mine cool right at an hour and had to be very careful taking them out of the pans.  To get the tarts out of the pan, a pointed offset spatula, worked really well, or you could use a sharp knife, as long as it has a fairly long, pointed blade.
This recipe makes 24 tarts.  Enjoy!
You Might Also Like: