I have such fond memories of going to my grandmother's house for dinner, not only because of the fun we had when we were all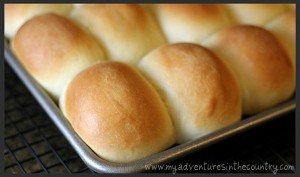 together, but also for her dinner rolls! As a kid (and later as adults) she would always ask us what we wanted for dinner on our birthdays and for me, it was always her homemade macaroni and cheese and dinner rolls.  Of course, she made everything under the sun so everyone else could eat too, but I'll never forget how tasty those rolls were.
Grandma has been gone for many years now and I've always wondered how she made those rolls so good.  As it just so happened, I received a new subscription in the mail a month or so ago, and in it was a FANTASTIC recipe for oil buns.  I've made them several times, trying to perfect the perfect "roll" shape and I think I finally figured it out.  The taste is awesome and my husband gets very excited every time I tell him I'm making them.  And, a little bonus about this recipe…you make it in the bread machine! Now, you can't get much easier than that! Enjoy…we sure do!
Delicious Country Rolls (Adapted from King Arthur Flour's The Baking Sheet)
1 cup milk, scalded and cooled to 120˚F
1 large egg
1/4 cup sugar
1 teaspoon salt
2 teaspoons instant yeast
1/4 cup melted butter
3 1/4 cups all-purpose flour
Directions:
Combine the ingredients in the order listed in the bowl of your bread machine.  Set the machine to the dough setting and let it do it's thing.  Check the dough half way through the kneading cycle.  If the dough is too sticky and stays on your finger, add a tablespoon or more flour.  If not, let it continue to finish its cycle.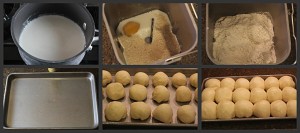 Once the cycle is complete, immediately shape the rolls into 18 equal size rolls.  Place them on a greased 9×13 baking sheet.  I used a cookie sheet, but a 9×13 baking pan would also work well.
Cover with greased plastic wrap and let rise until almost doubled.  Note: For quicker rising, preheat your oven to 170˚F, then turn it off.  Set the pan of rolls inside and check after 20-30 minutes. Once the rolls have risen, preheat your oven to 350˚F and bake for 15-18 minutes.  For an extra buttery taste, halfway through the baking cycle, remove the rolls and baste a little melted butter over each one and put back in the oven to finish baking.  Delicious!!!