Last week, a cold front moved in and finally gave us a real taste of January weather in Kansas.  So much so, I felt the need to make some cozy, homemade soups to try and keep us warm.  Of course, we couldn't just have soup for dinner.  We needed something warm to go along with it, so I decided to make some homemade bread.
I made my homemade roll recipe, using a loaf pan versus separating the bread into rolls, but what I really wanted to try, was homemade French bread.  I had never made it before and since I've been on a bread-making kick, I thought I'd give it go.  That's the great thing about this blog.  It's helping me get out of my comfort zone and try new things. 🙂 I love that!
So, I cheated a bit and used my bread machine to make the dough.  It's just so easy to throw all the ingredients in and let it do its thing.  When the dough setting was finished, I did take it out and roll it into two loaves of French bread.  So I did do a little work.  We paired it with our French onion soup and it was the perfect match.  I'll be sharing that recipe later in the week.
Homemade French Bread
January 18th, 2012
Ingredients:
1 2/3 cups water 110°-115°
3 Tbsp oil
1 1/2 Tbsp sugar
1 1/2 tsp salt
4 1/3 cups bread flour
6 tsp quick-rise yeast
1 egg white
1 Tbsp water
Directions:
Add ingredients to the bread pan of a bread machine, in the order listed above.  Set bread machine to dough setting and let it run its cycle.
When complete, remove dough and divide in half.  Let rest for 10 minutes.  Turn half the dough out on a lightly floured surface.  Roll into a large rectangle.  Roll dough up, starting with the long side.  Pinch edges to seal.   Repeat with second loaf.
Place dough loaves on a lightly greased baking sheet.  Combine the egg white and water and lightly brush over the top of the loves.  Cover with plastic wrap, sprayed with non-stick cooking spray or a damp towel.  Allow the dough to rise until almost double, about 45 minutes.  During the last 10 minutes of rising, preheat oven to 375°.
Using a serrated bread knife, make four to five cuts, 1/4" deep, across the bread.  Bake in the 375° oven for 20 minutes.  Remove and brush with egg white mixture again, and bake an additional 15-20 minutes or until golden brown.  Remove from oven and place loaves on cooling rack.  Cool completely.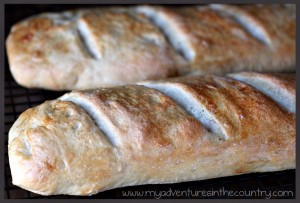 You Might Also Like: