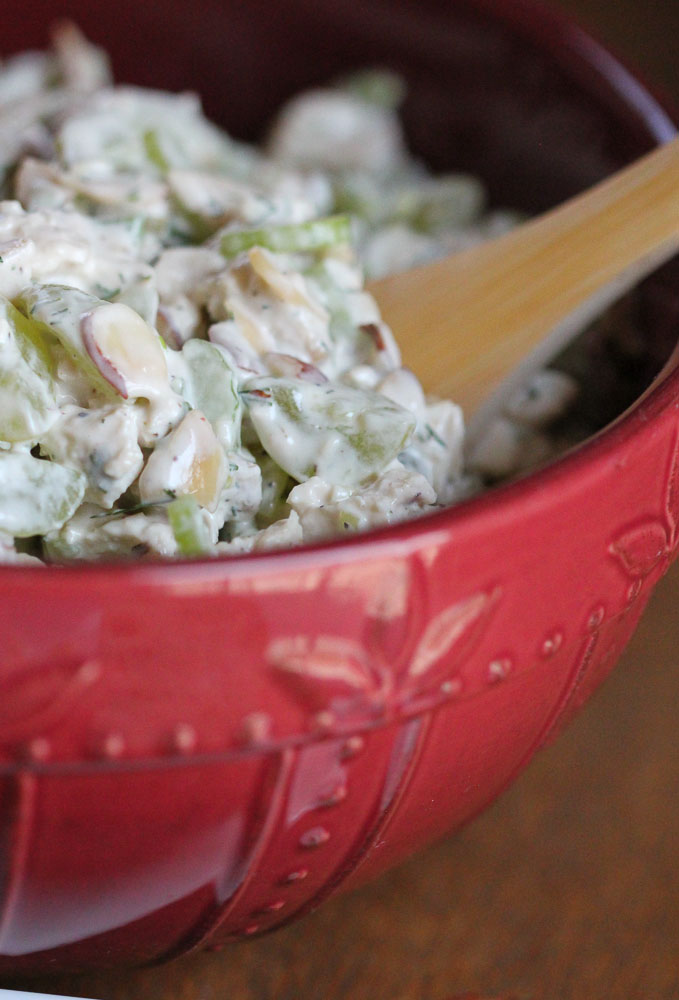 One of the best things about summer is that fact that you can make cold salads.  Chicken salad, pasta salad, Jell-O salad, fruit salad, you name it.  They don't heat up the kitchen and they add that little bit of freshness that's always needed after a hard day of work out in the summer sun.
Chicken salad has always been one of my favorite summer salads, but until recently, the bread always seemed to be just there.  Don't get me wrong, this post is for chicken salad, but I'm here to tell you, the bread is almost as important as the salad! I always serve this recipe on raisin bread and it's always a hit.  I know it may sound a bit strange, but trust me when I say, you will never go back to plain bread after you've eaten this on raisin bread.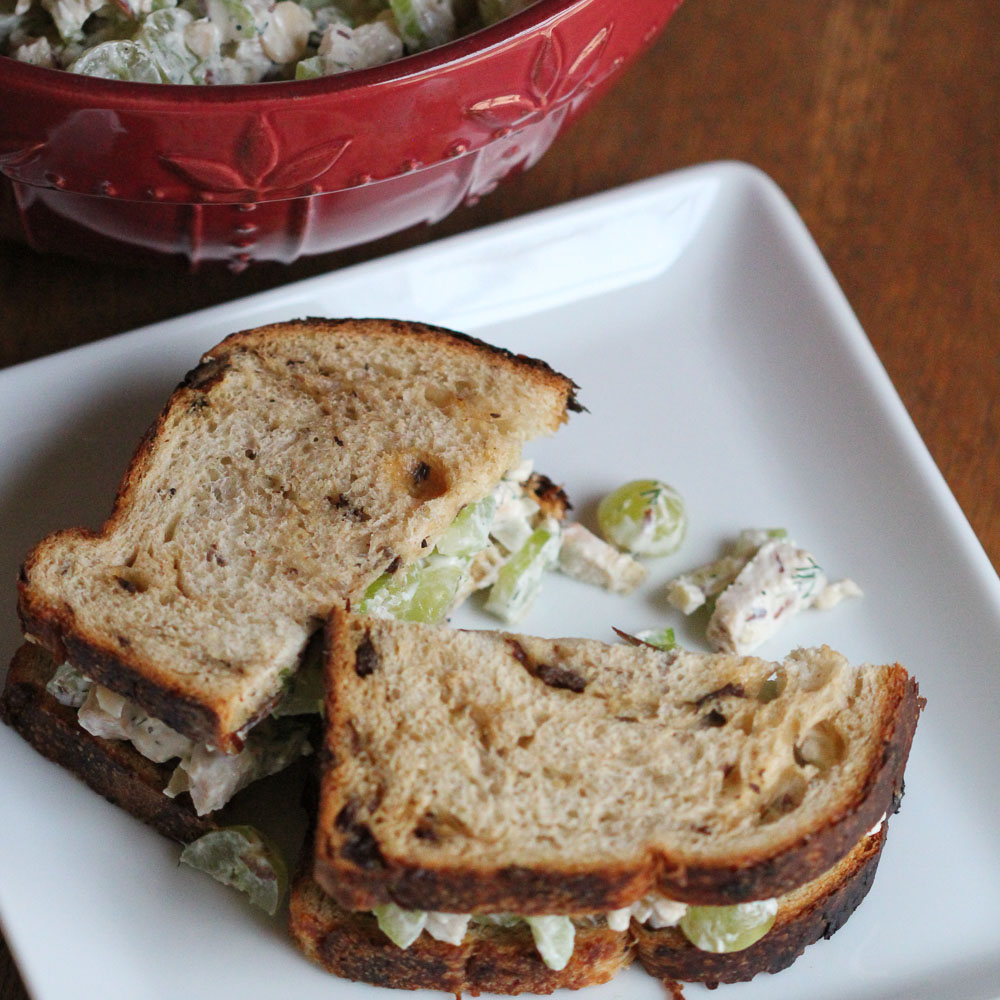 I must stress, though, it needs to be fresh bakery raisin bread, or homemade.  Don't buy the prepackaged stuff.  I tried that once out of desperation since the bakery at our local market was out of raisin bread.  Don't do it.  We ended up eating the salad without any bread, it was that bad.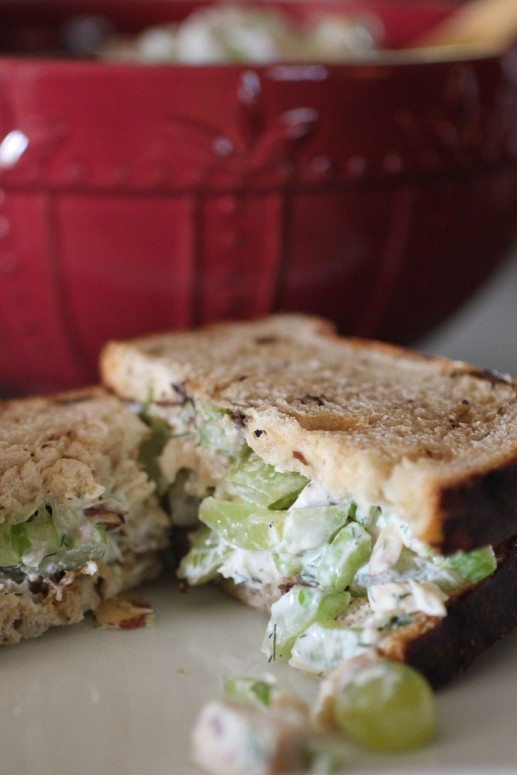 And don't think this chicken salad isn't for the fellas too.  I happened to make this when my brother-in-law was visiting and I could tell when we talked about what we were having for lunch, he wasn't too excited.  But, I'm happy to say, he and my husband kept going back for more and actually started using it as a dip on crackers. That's saying something.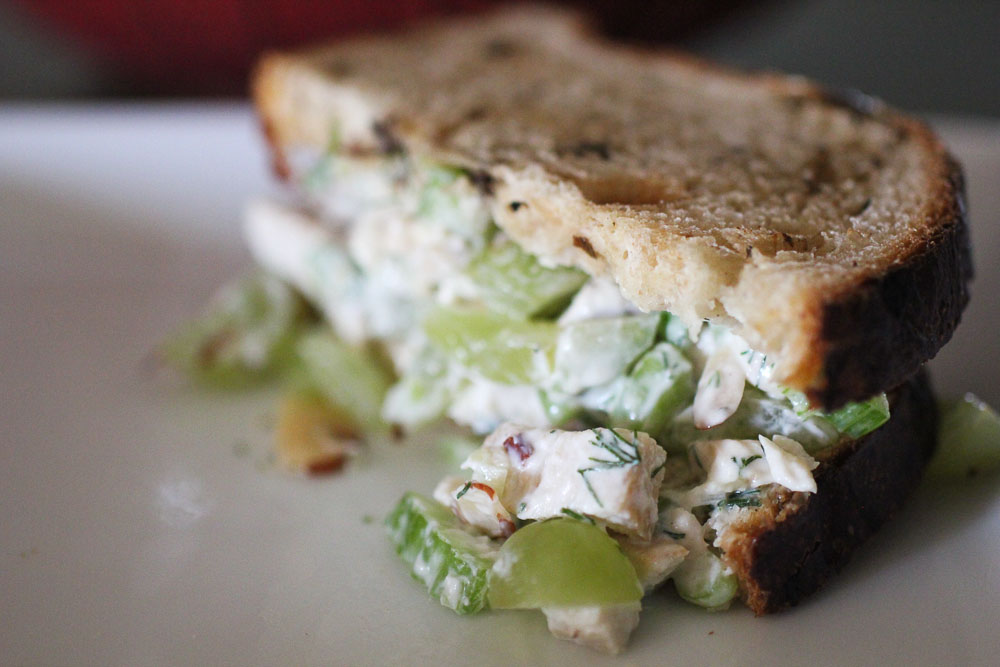 I think the secret to this scrumptious salad is the fresh dill and green onions.  And of course, the raisin bread.  The flavors just blend so effortlessly and it truly becomes addicting.  Please give it a try and I hope you like it as much as we do.  It's a favorite around here.
Chicken Salad
July 8th, 2013
Yield: 8-10 servings
Prep Time: 30 minutes
Total Time:
Ingredients:
3 1/2 cups cooked chicken, diced (5 small chicken breasts)
3/4 cup sliced almonds, toasted
3 cups grapes, red or green, halved
4 green onions, chopped
4 stalks celery, chopped
3/4 cup Mayo
3/4 cup light sour cream
2 tbsp sugar
2 tbsp fresh lemon juice
1/4 cup fresh dill, chopped
salt and pepper to taste
Directions:
Preheat oven to 350° and spread 3/4 cup sliced almonds evenly on a baking sheet. Bake for 7-8 minutes to toast. Set aside to cool.
While the almonds are toasting, lightly salt and pepper the chicken and brown in a skillet until cooked through. Set on a cutting board to cool.
Start the dressing by mixing together the Mayo, light sour cream, sugar, and lemon juice in a large bowl. Stir until sugar is dissolved.
Next, begin halving the grapes and chopping the green onions, celery and dill. Toss each into the large bowl with the dressing.
Once the chicken is cooled, dice into small pieces and add to the above mixture. Add in the cooled, toasted almonds, stir and enjoy!
Notes:
This recipe is best served on raisin bread!
You Might Also Like: