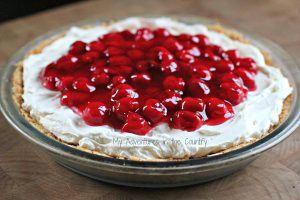 This recipe for Cherry Cheesecake is one of my favorites.  It's quick and easy and it reminds me of my grandma's house.  She used to make it, along with three or four other types of pie at each family gathering.  She wanted to make sure everyone had something they liked.  Grandma's are just like that. 🙂
I hate to even admit it, but I actually made this recipe back in October! I thought it would be a great post to share before the holidays, since that's when Gram usually made it, but I never got around to it.  It has just been sitting here, waiting for me to finish. So, as I was going through my "draft" posts, I saw this one and thought it was time to share.  I needed something quick and easy to post, since Ellie keeps us pretty busy around here.
But, I'm happy to say, she's reached a milestone…she's sleeping through the night! She's slept through the night the last three nights, and it couldn't have come at a better time.  I just had carpal tunnel release surgery, so the hubster was in charge of getting up at night.  I think Ellie must have known and decided to give him a break because the night before my surgery was the first night she did this. 🙂 Little stinker! I could have used a break a couple of days ago, but that's okay.  I'm super thankful for the extra zzz's now!
So, if you're busy taking care of a baby, or just busy in general, this is a great recipe to throw together the night before you need it.  It's a light and fluffy dessert that guests rave about!

Gram's Easy Cherry Cheesecake
Ingredients
For the Crust:
1 cup of fine graham cracker crumbs (about 1 sleeve of whole graham crackers)
3 Tbsp. Sugar
¼ cup Unsalted Butter, melted
For the Cheese Cake:
1 8-ounce pkg. of Philadelphia Cream Cheese, room temperature
½ cup Sugar
2 cups Cool Whip, 1 - 16 oz. container
1 tsp clear vanilla extract
Instructions
For the Crust:
If using whole graham crackers, place one sleeve in a large baggie. (I usually double bag them to prevent the baggie from breaking.) Pound crackers with a rolling pin or other object, under they are finely ground.
Melt the butter. In a medium bowl, combine the butter with the graham cracker crumbs and sugar. Mix until butter and sugar are evenly distributed.
Press the mixture into pie plate and bake in 375°F oven for 5 minutes.
OR I if you aren't the crust-making type, buy a ready made Graham Cracker Crust. 😉
For the Cheese Cake:
Beat the softened cream cheese with the sugar until smooth.
Add the cool whip and vanilla and mix well.
Fold the cool whip mixture into the crust and top with ¾ cup cherry pie filling.
Refrigerate for at least 3 hours.
*Note: You can also use canned pie filling for this. Wilderness brand was what Gram used to use.