[donotprint]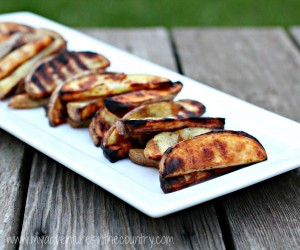 While this week's chaos at school had me believing this post wouldn't happen, I'm happy to say, it did. You see, there are a few renovations taking place at our school and my classroom is one that's being affected. Actually, my room will be torn down in just a matter of weeks. So, I had to move everything out of it and up to another room. A much smaller room.
So, with most of my after school time being spent sorting through boxes and organizing and reorganizing the new, temporary room, I was just sure I would have to skip this month's Kitchen Bootcamp Challenge.  Something I wasn't too happy about.  But with a quick change in supper plans last night (nothing like waiting until the last minute), I had time to make something for this month's challenge.
Since the weather has been crazy around here, a record 97°F a few days ago, then down to 59°F in just a matter of days, we've been grilling for a while now.  I was just stumped as to what I should make to share with everyone.  But last night, when contemplating what to have with our burgers for dinner, I came to the decision to make and share these grilled potato wedges.  We love potatoes around here, so it was a no-brainer to try something new with them.
These grilled potato wedges were quick and easy and packed full of flavor. You can create your own seasoning mix or use the blend I've suggested below.  They pair perfectly with grilled burgers or steaks.[/donotprint]
[cft format=0]