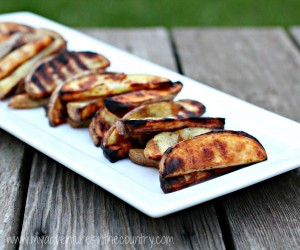 While this week's chaos at school had me believing this post wouldn't happen, I'm happy to say, it did. You see, there are a few renovations taking place at our school and my classroom is one that's being affected. Actually, my room will be torn down in just a matter of weeks. So, I had to move everything out of it and up to another room. A much
smaller
room.
So, with most of my after school time being spent sorting through boxes and organizing and reorganizing the new, temporary room, I was just sure I would have to skip this month's Kitchen Bootcamp Challenge.  Something I wasn't too happy about.  But with a quick change in supper plans last night (nothing like waiting until the last minute), I had time to make something for this month's challenge.
Since the weather has been crazy around here, a record 97°F a few days ago, then down to 59°F in just a matter of days, we've been grilling for a while now.  I was just stumped as to what I should make to share with everyone.  But last night, when contemplating what to have with our burgers for dinner, I came to the decision to make and share these grilled potato wedges.  We love potatoes around here, so it was a no-brainer to try something new with them.
These grilled potato wedges were quick and easy and packed full of flavor. You can create your own seasoning mix or use the blend I've suggested below.  They pair perfectly with grilled burgers or steaks.
April 29th, 2012
Ingredients:
3 Yukon Gold Potatoes
2 Tbsp olive oil
1 tsp Kosher salt
1 tsp garlic powder
1/2 tsp onion powder
1/2 tsp garlic salt
1/2-1 tsp fresh ground pepper
Directions:
Wash potatoes and pat dry.  Slice each potato in half, splitting the width of the potato evenly.  Lay each half, cut side down, on a cutting board and cut into wedges, approximately 1/2 inch thick.  Some of mine were thinner, some a little thicker.  You just want them to be pretty close to the same size so they cook evenly.
Once all potatoes are cut, place wedges in a bowl and coat with olive oil.  Add seasonings and toss until well-coated.  Allow potatoes to sit for 10 minutes before adding to the grill.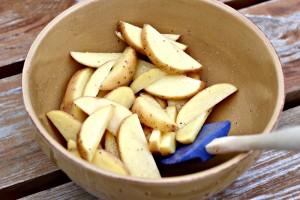 Preheat the grill to 500° and add potatoes directly to the grill rack.  Be careful not to lose any during this process.  I'm sorry to say I had a casualty while trying to flip mine.  Sorry little potato wedge!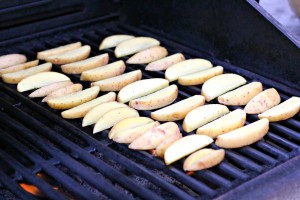 Reduce heat to medium. Grill for 4-5 minutes per side.  Do not turn until time is up! Be patient!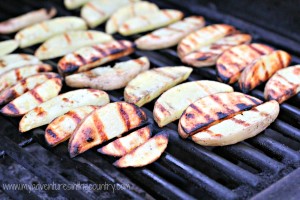 Once potatoes are nicely browned on both sides, if necessary, reduce heat and move to a cooler section of the grill to keep warm.  The front half of our grill cooks a bit hotter than the back, so rotate your potatoes while flipping if this is the case with your grill too.  This will help ensure that at least one side of each wedge gets a nice, brown color.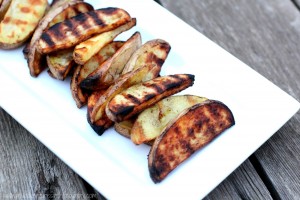 Serve immediately.  Happy grilling!!!
You Might Also Like: