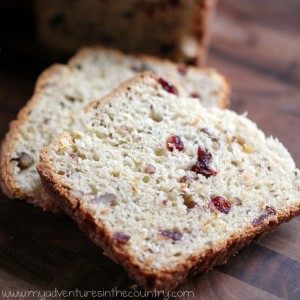 This week's Monday's Mystery Recipe is one that started with a very frightening experience in the kitchen.  No, I'm not talking about a kitchen fire or an accident with a knife.  This incident occurred as I was reaching for one of my baking cookbooks to reference hot cross buns.  I grabbed the book off the shelf in my kitchen and felt something brush against the palm of my hand.  I looked down and saw something scurrying across  the counter, heading between the stove and the counter top.
Of course, my immediate reaction was a complete body spasm and heeby-jeeby shake with arms flailing wildly.  I had no idea what had just run across my hand, but I had an idea.  I ran and grabbed a flash light and shone it down between the space between the stove and counter and saw a spider! Blaaahhhhh! Spiders are perfectly fine and I usually welcome them, just not in my home.  After several more complete body spasms, and probably a few not-so-nice words later, I went and grabbed the vacuum sweeper.  I used the longest attachment I had, and started sucking around the edge of the stove, to no avail.
Then, as luck would have it, the little creepy, crawly critter emerged from the opposite side of the stove.  Thank goodness! I sucked him right up and after checking to make sure he wasn't a brown recluse, I dumped his little carcass in the trash.  And after one last complete body shake, I was ready to continue on making my bread recipe. 🙂
This recipe was a new one for me.  I had never before made a yeast bread that incorporated dried fruit or nuts.  I read through the instructions and was pretty excited about how it would turn out.  I also made a few changes to the original, just because of what I like and had on hand.
The final recipe turned out perfect.  The flavor-packed, tender inside went perfectly with the crunchy outside crust.  Immediately after tasting it, I thought it was going to make excellent toast.  And I was right.  Just delightful!  I think it would also be a perfect bread to use for a bread pudding recipe.  Hmmm…perhaps that will be a new post!
What-To-Do-With-All-The-Egg-Yolks Bread
April 2nd, 2012
Ingredients:
1 pkg active dry yeast
1/4 cup sugar (divided-1 tsp will be used with the yeast mixture)
1/4 cup warm water (110°-115°)
3/4 cup whole milk, room temperature
3/4 cup butter, melted
zest from one orange
1 tsp salt
4 egg yolks, lightly beaten (left over from Grand Marnier Cranberry Muffins)
2 cups bread flour
1 1/2 cups all-purpose flour, plus 1/2 cup or so for kneading
3/4 cup dried cranberries
1 cup chopped pecans
Directions:
In a large mixing bowl, combine the yeast,  1 teaspoon of the sugar, and warm water.  Stir gently. Allow to set for about 10 minutes or until the yeast mixture begins to foam.
In a medium bowl, combine the melted butter, orange zest, remaining sugar, and salt.  Lightly stir to combine, then add to the yeast mixture.  Add the lightly mixed egg yolks, and stir well.  Begin adding the flour 1/2 cup at a time, stirring well after each addition.   Once the dough is no longer sticky, knead for 5-10 minutes on a lightly floured surface, until smooth and elastic.  I had to add about 1/2 cup more flour while kneading.
Create an indention in the dough and add the cranberries and pecans.  Knead until they are evenly distributed.  This step will get a little messy, but the cranberries and pecans that escape, can easily be worked back into the dough.  Once the dough is ready, place it in a large, buttered bowl and cover with a light towel or plastic wrap.  Allow dough to sit at room temperature until doubled.  This took about 1 ½ hours.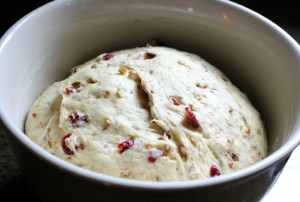 After the dough has doubled, punch it down and gently squish 4-5 times.  Roll and stretch the dough out into a log and wrap around a buttered tube pan. I used an angel food cake pan.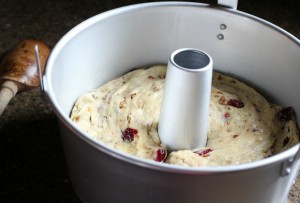 Allow the dough to rise again until doubled in bulk.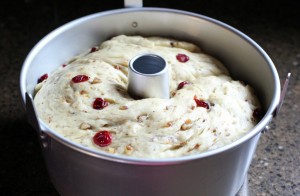 With about 15 minutes left in the rising, preheat the oven to 375°. Bake for 40-45 minutes or until the bread is golden brown.  The bread will sound hollow when thumped.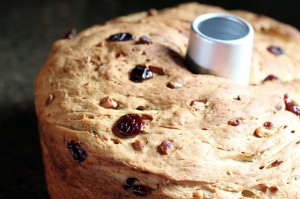 Place the bread on a cooling rack for 10-15 minutes before removing it from the pan.  If using an angel food pan, the task of taking the bread out is much easier.  Once cool enough, slice and serve or use in the morning for toast.  It's excellent!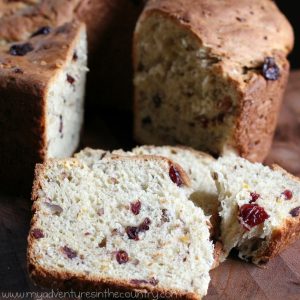 You Might Also Like: