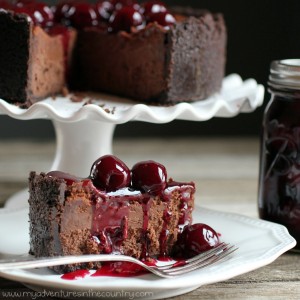 Do you ever have one of those days, where nothing goes right in the kitchen? No? Well, Saturday was that day for me.  As I sat in my smoke-filled house, wishing the day's baking had turned out differently, I decided to go forward and share this post.  (And when I said smoke-filled house, I meant the WHOLE house.  We have a very open floor plan…no room was safe here.)
I don't believe the fault was in the recipe, rather the preparer of it. I guess I was just having an "off" day.  I hate those days.  Those days make you feel like a failure, even though you know it's not you.  It probably didn't help matters that my dear, sweet hubby made the comment that the cheesecake would probably have a funny taste since it was in the smoke-filled oven.  Really? Did you not think that thought had not already entered my mind?!!? His next comment was he thought he needed to go back down to the shop to finish working on the mower.  (I really think it might have been the look I gave him.  No words were necessary, just the look.) Funny how men sense when they've said the wrong thing at the wrong time. 😉
Needless to say, after I moved the cheesecake to the other oven to finish baking, in hopes of preventing the smoke smell from penetrating what I had hoped to be a delicious dessert, I set my oven to clean and again, dealt with the plume of smoke billowing out for the second time in one evening.  I also lit some candles to try and cover the smell.  And opened 9 windows. Yes, I said 9 windows.  You can never have too many windows open when your house is filled with smoke. 🙁
Anyway, the cheesecake finished baking and the oven kept cleaning, and I took a shower, anxious to wash away the smoke smell.  And yesterday, I removed the cheesecake from the fridge to find it had set up just fine.  Ah, a new day.
So, for this week's Monday's Mystery Recipe, I'm sharing Chocolate Truffle Cheesecake, from Diane Mott Davidson's, The Last Suppers.  I had a little trouble with the crust, but that was my own doing, not the author's.  And, I saw the perfect opportunity to use some of the Amaretto soaked cherries I canned back in September to make a simple Amaretto cherry glaze.  (The recipe for the soaked cherries is from Jen at My Kitchen Addiction.)
Chocolate Truffle Cheesecake with Amaretto Cherry Glaze
March 12th, 2012
Ingredients:
For the Crust:
12 oz. chocolate cookie crumbs
1 stick unsalted butter, melted
For the Filling:
8 oz. unsweetened chocolate
24 oz. cream cheese
3 large eggs
1 cup sugar
1/4 cup Amaretto liqueur
2 tsp vanilla extract
1/2 cup heavy whipping cream
For the Amaretto Cherry Glaze:
1 pint jar Amaretto Soaked Cherries
1 Tbsp cornstarch
Directions:
For the Crust:
Preheat oven to 350°.  Either make or purchase chocolate cookies.  (I suggest you try this recipe from Jen at My Kitchen Addiction for the chocolate cookies.  They are AMAZING!) And you'll have about half your batch left over to do with whatever you wish!
Process the cookies in a food processor until they form fine crumbs.  Pour crumbs into a bowl and add melted butter.  Mix until crumbs stick together.  This will look fairly wet.  Press butter and crumb mixture into a 10" springform pan, along the bottom and partially up the sides.  Cover with a towel and refrigerate until filling is prepared.  (I only had a 9" pan and I'm not sure you want to go that route.)
For the filling:
Place an 8 oz. box of unsweetened chocolate in a microwave safe bowl and microwave on 50% power at 30 second intervals until chocolate is melted.  Mine took about 2 minutes total.  Be sure to stir the chocolate after each 30 seconds.  Allow to cool slightly.
Meanwhile, measure out the Amaretto, vanilla, and whipping cream and set aside.
Using a stand mixer, mix the cream cheese on medium low speed until creamy and smooth.  Add eggs, one at a time, mixing well after each addition.  Add sugar and mix until well incorporated.  Take a small amount of this mixture and add to the cooled chocolate.  Stir until chocolate starts to look like dough.  (I'm not sure this was supposed to happen, but it did and it seemed to come out of it after adding it back to the cream cheese mixture.)  Add chocolate mixture to the cream cheese mixture and continue to mix until blended.  Scrape the sides of the bowl to make sure all the chocolate is incorporated.  Add the Amaretto mixture and mix on medium speed until mixture resembles a creamy, thick mousse.
Scoop filling into prepared crust, smoothing the top with an angled spatula.  Place the pan on a foil lined baking sheet.  (This is a suggestion based on the smoke issue I mentioned earlier.) Place the pan in a 350° oven for 50-55 minutes.  Mine took about an hour to fully bake.  Allow cheesecake to cool to room temperature, then refrigerate at least two hours.  I refrigerated mine overnight.
For Amaretto Cherry Glaze: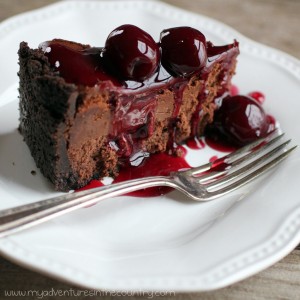 Separate the cherries from the jar and pour the remaining liquid into a 2 quart saucepan.  Add 1 tablespoon cornstarch and whisk until dissolved.  Add cherries back to the saucepan and heat on low to medium-low heat for 5-6 minutes or until mixtures bubbles and thickens.  Remove from heat and allow to cool, slightly.
Once glaze has cooled, drizzle over top of cheesecake and serve. I actually set my cheesecake out for about 20 minutes before I added the glaze.  This allowed it to warm up a bit before I served it.  I also ran my knife under warm water before slicing, to help get a smoother cut.
This cheesecake is VERY rich and unless you love chocolate, take a small piece.  It definitely tasted like a chocolate truffle!
You Might Also Like: