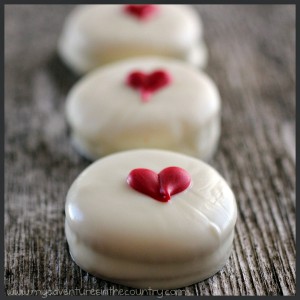 Wondering what to do with all those left-over crackers from your Super Bowl party? Turn them into a sweet and inexpensive treat for your Valentine! Your significant other will truly appreciate your efforts for these little beauties.  And they are easily dressed up with a little red decor.  I made hearts out of red candy melts and a piping bag, but you could easily use Valentine sprinkles or sanding sugar. Either way, these are a great gift to satisfy your sweetie's sweet tooth.
White Chocolate Covered Ritz Crackers
February 7th, 2012
Ingredients:
2 sleeves Ritz crackers
1/2 - 3/4 cup peanut butter
1-2 lbs white chocolate
1 tsp shortening
Directions:
Spread crackers out on a sheet of waxed paper.  Place 1/2 cup of peanut butter in a piping bag.  Pipe peanut butter on center of cracker and top with second cracker to make a sandwich.  Continue until all sandwiches are put together.  Let sandwiches stand for 20-25 minutes so peanut butter can set.
Meanwhile, heat white chocolate and 1 teaspoon of vegetable shortening in microwave safe bowl for 30 seconds at 50% power.  Stir chocolate and continue to heat until smooth and creamy.  Be careful not to overheat your chocolate.  Doing so will cause your chocolate to harden and become unusable.
Once chocolate is melted, dip sandwiches in chocolate and cover completely.  Using a fork, lift the sandwich out of the bowl and tap the excess chocolate off the cracker.  If adding embellishments to your sandwiches, add them now, while the chocolate is still wet., otherwise, they won't stick.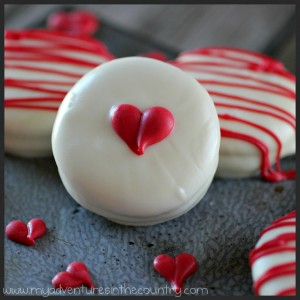 Move dipped cracker to wax paper and allow to cool until completely set.  To add more color, try drizzling melted candy melts across your crackers! It's simple and adds a bit more color to your treats!
You Might Also Like: