[donotprint]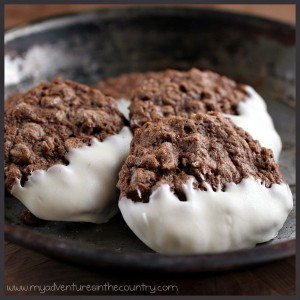 I think most people know one of my favorite things to bake is cookies.  I don't know what it is about them, but they are just so warm and comforting and typically give quick results for your efforts.  So, when I found this recipe for Chocoholic Cookies in The Main Corpse, by Diane Mott Davidson, I was more than excited.
As I said last week, I recently finished that book and am now on to The Cereal Murders, but have a couple more recipes to share from The Main Corpse, first.  This particular recipe might look intimidating due to the lengthy instructions and list of ingredients, but please give them a try.  I was pleasantly surprised at how tasty they were.  Don't get me wrong, I knew people would like them, I just wasn't sure how much I would like them. Call me crazy, but I'm not a huge fan of rich chocolate, especially in cookies.  When I make chocolate chip cookies, I usually go with milk chocolate chips because I don't like the semi-sweet chocolate.  And brownies? Eh, they're okay, but I could easily pass them over for something else.
So, when I decided that this was the recipe I was going to try this week, I was just a little skeptical about how my taste buds would react.  And I'm happy to say, my taste buds are happy.  Very happy in fact.  A little surprise at the end of the recipe led me to white chocolate, something I love more than milk chocolate!
This week's Monday's Mystery Recipe is Chocoholic Cookies, from Diane Mott Davidson's, The Main Corpse.  The flavor of these delectable delights is a combination between brownie and monster cookie.  They are chewy and delicious and that extra white chocolate gives them the perfect balance.  Enjoy![/donotprint]
[cft format=0]