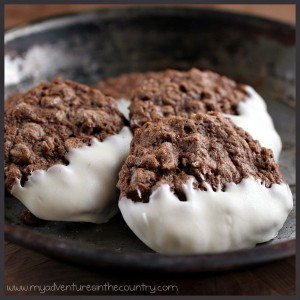 I think most people know one of my favorite things to bake is cookies.  I don't know what it is about them, but they are just so warm and comforting and typically give quick results for your efforts.  So, when I found this recipe for Chocoholic Cookies in
The Main Corpse
, by Diane Mott Davidson, I was more than excited.
As I said last week, I recently finished that book and am now on to The Cereal Murders, but have a couple more recipes to share from The Main Corpse, first.  This particular recipe might look intimidating due to the lengthy instructions and list of ingredients, but please give them a try.  I was pleasantly surprised at how tasty they were.  Don't get me wrong, I knew people would like them, I just wasn't sure how much I would like them. Call me crazy, but I'm not a huge fan of rich chocolate, especially in cookies.  When I make chocolate chip cookies, I usually go with milk chocolate chips because I don't like the semi-sweet chocolate.  And brownies? Eh, they're okay, but I could easily pass them over for something else.
So, when I decided that this was the recipe I was going to try this week, I was just a little skeptical about how my taste buds would react.  And I'm happy to say, my taste buds are happy.  Very happy in fact.  A little surprise at the end of the recipe led me to white chocolate, something I love more than milk chocolate!
This week's Monday's Mystery Recipe is Chocoholic Cookies, from Diane Mott Davidson's, The Main Corpse.  The flavor of these delectable delights is a combination between brownie and monster cookie.  They are chewy and delicious and that extra white chocolate gives them the perfect balance.  Enjoy!
Chocoholic Cookies
February 6th, 2012
Ingredients:
2 cups rolled oats (Old-fashioned, not quick)
2 cups semi-sweet chocolate chips (12 oz package)
1 cup butter, softened
1 cup dark brown sugar, firmly packed
1/2 cup granulated sugar
1 1/2 cups all-purpose flour
1/2 tsp baking soda
1/2 tsp salt
1/4 cup unsweetened cocoa, preferably Hershey's Premium European-Style  (I used Hershey's Cocoa, original)
2 large eggs, slightly beaten
1 tbsp milk
1 1/2 tsp pure vanilla extract (I used vanilla bean paste)
9 oz white chocolate, preferably Lindt Swiss White Confectionery Bar (I used white baking bits)
1 1/2 tbsp solid vegetable shortening such as Crisco (I forgot to add this and mine turned out fine.)
Directions:
Preheat oven to 350°.  Line cookie sheets with parchment paper or lightly grease with butter.  Author's Note: Do not alter the order in which the ingredients are combined.
In a large bowl, combine the oats and chocolate chips; set aside.  In the bowl of a stand mixer, beat together the butter and sugars until creamy.  In a medium bowl, sift or whisk the flour, baking soda, salt, and cocoa, then slowly add to the butter mixture.  Stir until combined.
This dough is very stiff at this point, so don't worry.  Combine the milk, vanilla, and eggs.  Stir slightly.  Slowly add to the butter mixture and mix until thoroughly combined.  Pour in the oats and chocolate chips; stir until well mixed.
Using a small cookie scoop, drop batter 2 inches apart on parchment lined or buttered cookie sheet.  Bake 9 to 12 minutes, until cooked through.  (I baked mine 12-13 minutes because my cookie scoop was a little larger.)  Cool on pan until completely cool.  You can cool on pan 1 minute, then transfer to a cooling rack, but I let mine cool completely on the cookie sheet. (I prefer to do that so the shape of my cookie isn't compromised during the transfer.)
Once cookies are completely cooled, melt the white chocolate with the vegetable shortening.  (I forgot to add the shortening to mine.  This just helps the chocolate maintain a smooth consistency, so if you forget too, your cookies will still taste good.)  Dip 1/2 to 1/3 of the cookie into the melted chocolate and shake to remove excess.  Place dipped cookie on a sheet of wax paper to cool completely.  Store between layers of wax paper in an airtight container in a cool place.
Makes 4-5 dozen, depending on size.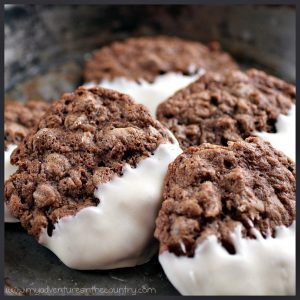 You Might Also Like: