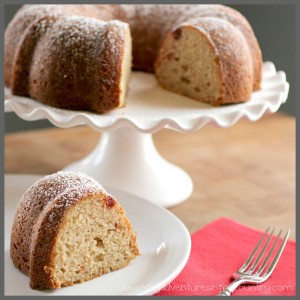 Well, I'm really excited to say I just finished another book by Diane Mott Davidson.  This one was,
The Main Corpse,
and it was, indeed, another great read.  I've been a little out of order as far as the series goes, but in case you have the same issues I had, it doesn't really cause any confusion in the main story line.
I needed the third book in the series, but it was unavailable at our local library, so I settled on another, The Main Corpse.  Now having finished that one, I can get back on track.  I will be starting The Cereal Murders and I'm really excited about it!
Over the next few weeks, I will be sharing some recipes from The Main Corpse.  It has some great looking recipes and some tasty ones too! I've already tried a couple, but I'm picking out my favorites to share with you.  There are also some I will bookmark and make later in the year when the ingredients are in season.  I hate to make too many recipes when the ingredients aren't at their peak flavor.  I think it takes away from the recipe, don't you?
So, for this week's Monday's Mystery Recipe, I will be sharing Sour Cream Cherry Coffee Cake from Diane Mott Davidson's, The Main Corpse.  This is a quick and easy recipe that I know you'll love!
Sour Cream Cherry Coffee Cake
January 30th, 2012
Ingredients:
1 stick unsalted butter, softened
1 cup granulated sugar
2 large eggs
1 cup fat-free sour cream (I used light, since that's what I had on hand)
2 cups all-purpose flour
1 tsp baking powder
1 tsp baking soda
1/4 tsp salt
1 tsp pure vanilla extract (I used vanilla bean paste)
1 tbsp finely chopped lemon zest (I just used my zester for this)
1/2 cup best quality cherry preserves (I used a jar of my homemade cherry jam)
Directions:
Preheat oven to 350°.  Grease 2 8-inch-square cake pans.  (I used a standard size bundt pan.)  In a large mixer bowl, beat butter with sugar until well combined.  Add eggs one at a time and beat well.  Add sour cream and mix thoroughly.
In a small bowl, mix together the flour, baking powder, baking soda, and salt.  Add the dry ingredients to the butter mixture.  Batter will be stiff.
Stir in the vanilla, zest, and cherry preserves.  Spread batter in prepared pans.  Bake 20-30 minutes or until a toothpick inserted in the center comes out clean.  Makes 2 cakes or one regular sized bundt cake.
*Note: I used one, standard size bundt pan.  If baking in one pan, you will need to increase your baking time to 35 minutes.  Let cool 5-10 minutes in pan, then remove to wire rack to cool completely.  Transfer to serving plate and dust lightly with powdered sugar, if desired.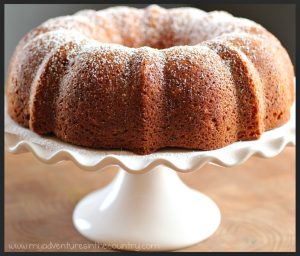 You Might Also Like: