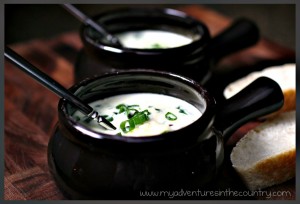 Last week due to the cold spell that hit our area, I was in the mood for soup.  And it just so happened that the last recipe I bookmarked from Diane Mott Davidson's,
Dying for Chocolate
, was Goldilocks' Gourmet Spinach Soup! What timing!
I hate to admit it, but I've never tried spinach soup.  I've had dips and, of course, salads made with spinach, but never a soup.  So, this was a good challenge for me.  I love fresh spinach, but have never been a fan of the canned varieties, so when I saw the recipe called for fresh spinach, I was excited.
This was actually a very easy soup to prepare.  No special ingredients and it went together well.  My only complaint was the time it took to trim the spinach.  And if you had a helper in the kitchen, it would go a lot faster.  But overall, it was totally worth it.
So, for this week's edition of Monday's Mystery Recipe, I share with you Goldilocks' Gourmet Spinach Soup from Diane Mott Davidson's, Dying for Chocolate.  It's delicious!!!
Goldilocks' Gourmet Spinach Soup
January 23rd, 2012
Ingredients:
5 tablespoons unsalted butter
4 oz fresh mushrooms, washed, dried, trimmed and diced  (I used button mushrooms)
1 scallion, chopped
5 tablespoons all-purpose flour
2 cups chicken broth
2 cups milk
1/2 tsp salt (optional)
fresh ground black pepper, to taste
ground nutmeg (optional....I left this out)
4 oz cream cheese, softened and cut into cubes
1 cup grated Swiss cheese
3/4 pound fresh spinach, washed, trimmed, cooked, and chopped
*extra chopped scallions and grated Swish cheese for garnish, optional
Directions:
Melt the butter in a large saucepan.  In it slowly saute' the mushrooms and scallion until tender.  Add flour and stir until flour is cooked, a couple of minutes.
Whisk in first chicken broth and then milk, stirring until thickened.  Add salt, pepper, cream cheese, and Swiss cheese; stir until melted.  Then stir in spinach.  Heat and stir very gently.  Season to taste.  Serve hot.  Makes 4 servings.
I served ours with homemade French bread.  It was the perfect compliment to this savory soup! Enjoy!!!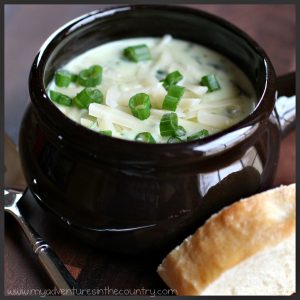 You Might Also Like: