[donotprint]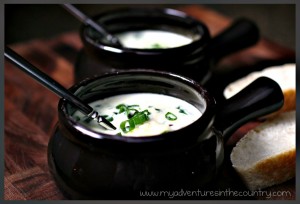 Last week due to the cold spell that hit our area, I was in the mood for soup.  And it just so happened that the last recipe I bookmarked from Diane Mott Davidson's, Dying for Chocolate, was Goldilocks' Gourmet Spinach Soup! What timing!
I hate to admit it, but I've never tried spinach soup.  I've had dips and, of course, salads made with spinach, but never a soup.  So, this was a good challenge for me.  I love fresh spinach, but have never been a fan of the canned varieties, so when I saw the recipe called for fresh spinach, I was excited.
This was actually a very easy soup to prepare.  No special ingredients and it went together well.  My only complaint was the time it took to trim the spinach.  And if you had a helper in the kitchen, it would go a lot faster.  But overall, it was totally worth it.
So, for this week's edition of Monday's Mystery Recipe, I share with you Goldilocks' Gourmet Spinach Soup from Diane Mott Davidson's, Dying for Chocolate.  It's delicious!!![/donotprint]
[cft format=0]