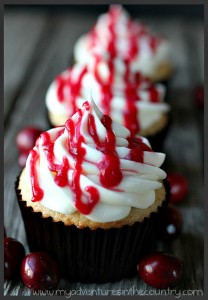 Are you tired of all the rich, chocolaty desserts that have been flooding your taste buds for the last month and a half? If so, this recipe is for you! A tangy, citrusy gem, these cupcakes are the perfect solution to an overabundance of cranberries and oranges left over from the holiday season!
As often happens with my holiday grocery shopping, I purchased way too many ingredients for goodies that would never see the inside of my oven.  I had great intentions to make and package my baked confections for friends and family, but there just weren't enough hours in the day.  So, I'm left with a pantry full of dried cranberries, chocolates, and various nuts that will soon find themselves in different creations.
In my search to find a recipe to use up some of these ingredients, I found this recipe for Orange Cupcakes at My Baking Addiction.  I made a few changes to it and decided it needed a little tang on top, thus the cranberry orange drizzle. (It also used up more ingredients!) If you, too, are tired of all the rich desserts, give these cupcakes a try.  They turned out really well and are bursting with citrus flavor.  I'll definitely be making them again!
Cranberry Orange Drizzle
January 5th, 2012
Ingredients:
Cranberry Orange Drizzle
2 cups fresh or frozen cranberries
3/4 cups fresh orange juice (about 2 oranges)
1/2 cup sugar
Cranberry Orange Cupcakes (Adapted from My Baking Addiction)
1 1/2 cups all-purpose flour
1 1/2 tsp baking powder
1/4 tsp salt
3-4 oz. Greek vanilla yogurt, full fat is best
1/3 cup cranberry puree
zest of 2 oranges (juice can be used for drizzle)
1/2 cup butter, unsalted
1 cup sugar
3 eggs
Orange Cream Cheese Frosting
8 oz. cream cheese
1 stick butter, unsalted
2 tbsp fresh orange juice
6-7 cups sifted powdered sugar
Directions:
Cranberry Orange Drizzle
Combine cranberries and orange juice in a medium saucepan.  Simmer for about 10 minutes or until cranberries burst.  Remove pan from heat and stir in sugar.  Stir until all sugar is dissolved.  Allow to cool.  Once cranberry mixture has cooled, place in a food processor or use an immersion blender to puree.  I used the immersion blender to save on clean-up.
Once pureed, measure out 1/3 cup for cupcakes.  Then place remainder in a decorator bag or plastic bottle to use as drizzle.
Cranberry Orange Cupcakes
Preheat oven to 350°.  Line a 12 cup muffin tin with cupcake liners.
Whisk together the flour, baking powder, and salt.  Set aside.  In a medium bowl, combine the yogurt and cranberry puree.  Set aside.
In the bowl of a stand-up mixer, cream the sugar and butter together at medium speed until light and fluffy.  Add in the orange zest.  Continue mixing on low speed and add eggs, one at a time, mixing well after each addition.
Alternately add half the flour and mix until just combined.  Add yogurt and cranberry mixture and mix until incorporated, scraping sides of bowl.  Add the last portion of the flour and mix just until combined.
Using a medium cookie scoop, portion the batter into 12 lined muffin cups. Bake in 350° oven for 18 minutes.   Remove when toothpick inserted comes out clean.  Cool on wire rack.  When completely cool, frost with orange cream cheese frosting.
Orange Cream Cheese Frosting
Cream the butter and cream cheese in the bowl of a stand mixer.  Slowly add the sifted powdered sugar.  Continue to add powdered sugar and begin to add orange juice as necessary until frosting is desired consistency.  I like my cream cheese frosting to be a little stiffer for decorating.  Place frosting in decorator bag with desired tip and frost cupcakes.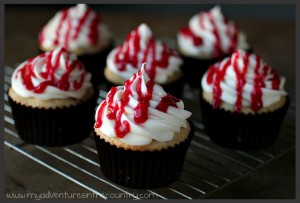 You Might Also Like: