[donotprint]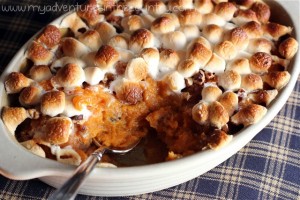 The holidays are a wonderful time to get together with friends and family, but unfortunately, we are often rushed to make it to both sides  of our families.  Due to the need to leave early from one, just to arrive late to the other, in recent years we've opted to make it a point to eat dinner at my in-laws for Thanksgiving and then do the same for Christmas at my aunt and uncle's.  It seemed to make the most sense and relieve the most stress for us.  Of course, we see them other times of the year, but we always want to make a special point to see them on Thanksgiving and Christmas.
And, instead of one person preparing the entire meal at my in-laws, everyone is asked to bring a side dish or a dessert. This works really well and we are always blessed with a great variety of food to accompany the turkey and mashed potatoes. The one thing that seemed to be missing, though, was sweet potato casserole.  It was one dish that was always present at my Grandma's house and I missed having it there. That being the case, I decided it would become my signature dish.
Several years ago, as I was perusing a copy of Cooking Light Magazine, I found a recipe for sweet potato casserole.  I decided to give it a try and it was wonderful!  Everyone raved over it, so I knew it was a keeper.  Unfortunately, over the last year, I misplaced my magazine. Believe me when I say, I was VERY irritated with myself, especially as I was preparing my list of to-do's for Wednesday's baking.
So, I did what everyone does when they need a good recipe. I turned to the Internet for help.  I looked up Cooking Light and stumbled upon this recipe for traditional sweet potato casserole.  I'm not sure if it was the exact same recipe, but I'll be sure to keep track of this one.  I didn't have any leftover casserole to bring home from Thanksgiving, so I made a small batch just for the two of us. I've adjusted it just a bit to make two servings. Okay, it really makes about 4 servings, but it allowed leftovers for lunches the next day.  You can't beat that.[/donotprint]
[cft format=0]