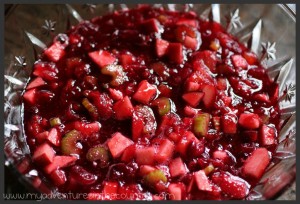 Growing up, we would always go to Grandma Jim's for Thanksgiving and Christmas and she always made this cranberry salad.  I wish I could say I've been eating it for over 30 years, but that just isn't true.  You see, I was a bit of a picky eater as a child.  My usual Thanksgiving and Christmas meal consisted of ham or turkey, Gram's rolls, mashed potatoes and gravy and possibly green beans.  I'm not sure why I thought nothing else was up to snuff for my taste buds, but thankfully as an adult, those same taste buds changed and I began branching out to the rest of the great items she would prepare for our feasts. This was one of those dishes and I'm so glad I tried it because it has become one of my most favorite dishes.  And, to make it even better, it's super easy!
Grandma Jim's Cranberry Salad
2 cups of fresh cranberries, washed and drained
1-½ cups Water
1 cup sugar
1 3 oz. pkg Cherry Jello
1 small can (8oz.) of crushed pineapple – (I sometimes use the 20 oz. can), drained
1 to 2 stick celery, diced fine
1 small ripe apple chopped
1/4 cup toasted pecans
Directions:
Combine the 2 cups of fresh cranberries and 1 1/2 cups of water in a medium sauce pan.  Cook on medium with the lid on until the cranberries burst, about 10 minutes.
Remove from heat and add the sugar and cherry Jello.  Stir until both are dissolved.
Add the drained, canned pineapple, chopped celery and diced apple.  Stir into the Jello mixture until well-coated. Pour mixture into serving bowl and let stand for about 10 minutes.
If desired, sprinkle with toasted pecans and cover with Saran wrap.  Refrigerate over night.