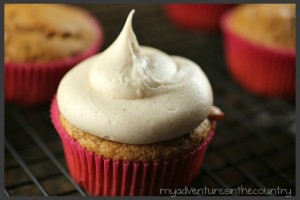 I'm not really sure if I should truly call this recipe a cupcake or a muffin, but either way it's delicious.  I originally set out to substitute sweet potato puree for pumpkin puree in my pumpkin muffin recipe, but then decided to change from oil to butter and from granulated sugar to dark brown sugar.  Now, I'm no scientist, but I realize with all the changes, I didn't keep a true control group.  Regardless, the cupcake/muffins turned out super tasty and I'm pleased with them, with or without frosting.
Speaking of frosting, I had a couple of ideas to go along with these new found favorites.  Either a spiced cream cheese frosting, because everything tastes better with cream cheese frosting, or something new.  Something marshmallowy and dreamy, like on sweet potato casserole.  A Seven-Minute frosting sounded good…or White Mountain frosting, a similar version of that.
Because I couldn't make up my mind which frosting would taste better, ended up making both.  I must say, the cream cheese frosting was my favorite.  I think it paired extremely well with the rich, moistness of the sweet potato cupcake.  The White Mountain frosting was good, but didn't quite seem to have the same zip as the cream cheese and the sweet potato combo.
So, if you'd like to try these delectable little treats, here you go!
Sweet Potato Cupcakes with Brown Sugar and Cinnamon Cream Cheese Frosting
1 cup dark brown sugar
1/2 cup (1 stick) unsalted butter, softened
2 eggs
2 tsp vanilla
1 cup sweet potato puree (See Sweet Potato Puree)
1/4 cup milk or cream
1 1/2 cups all-purpose flour
1 1/2 tsp baking powder
1/2 tsp baking soda
1/2 tsp course salt
1 1/2 tsp cinnamon
Directions for the Cupcakes:
Preheat the oven to 375°. Line muffin tins with paper liners.
In a small bowl, sift together the flour, baking powder, baking soda, salt, and cinnamon. In a medium bowl, cream together the butter and brown sugar.  Add the eggs and vanilla and mix until well-combined.   In a separate bowl, combine the milk and sweet potato puree.
Alternately add the dry ingredients with the sweet potato mixture, ending with the dry ingredients.  Be careful to mix just until everything is moistened.  Over mixing will cause the cupcakes to become tough and chewy.
Scoop batter equally into muffin-lined cups.  Bake at 375° for 18 minutes.  Check with a toothpick for doneness.  Allow to cool on a wire rack for 7-8 minutes, then remove from muffin tin to cool completel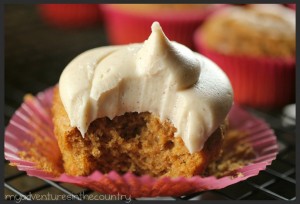 y on wire rack.
Brown Sugar and Cinnamon Cream Cheese Frosting
1/2 stick unsalted butter, softened
8 oz cream cheese, softened
1 1/2 tsp vanilla extract
1/4 cup dark brown sugar
1/4-1/2 tsp cinnamon
6 cups sifted powdered sugar
Directions for the Frosting:
Combine the softened butter, cream cheese and vanilla in a large mixing bowl.  Mix until fluffy and well-combined.  Add in dark brown sugar and cinnamon.  Mix well.  Begin to add sifted powdered sugar one cup at a time.  Continue mixing until smooth.  Add a small amount of milk or cream if frosting should become to thick.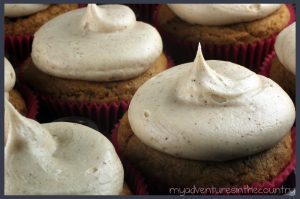 This batch of cupcake batter makes about 16 cupcakes and enough frosting for about 20 cupcakes.  I think it would also be a nice treat on top of a warm cinnamon roll. Hmmm…I think I have an idea for another post.  Happy baking!