Have you ever made something so rich, so savory, that it makes you go weak in the knees? This soup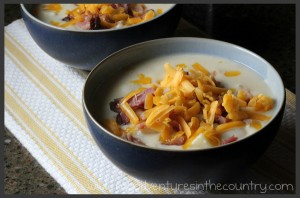 does that to me.  Is it a little weird that a soup could do that? I don't think so if it's something that tastes as good as this.  It is by far, my most favorite soup, ever!
My quest for this perfect potato soup began after my sister and I ate at a restaurant in Lawrence.  I ordered their "Baked Potato Soup" and was hooked.  Warning: This recipe is not for those watching their weight or cholesterol and it will contribute to added "insulation" around the midsection. 🙂
Cheesy Potato Soup
3/4 C butter
3/4 C flour
7 C milk (At least 2%) I used whole milk
4-6 large potatoes, cut into 1-inch pieces (Our favorites are Yukon Gold)
1 medium onion, diced
1/2 -1 lb. package hickory smoked bacon, cooked and chopped or left-over, shredded ham
1 1/2 – 2 C cheddar cheese
1 C sour cream, light is fine
2-3 tsp salt
pepper to taste
Directions:
Peel and chop the potatoes, then cut into 1-inch pieces.  Boil potatoes for 7-8 minutes until tender, but still firm.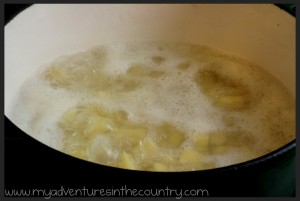 Meanwhile, melt butter in large pot and add diced onion.  Saute until tender.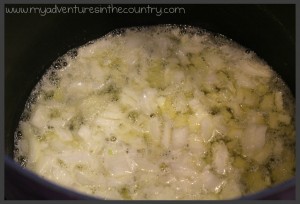 Add the salt and flour and stir until you've made a fairly thick paste or rue.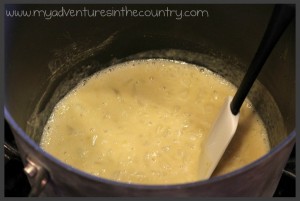 Slowly pour in milk, stirring constantly until all milk is added.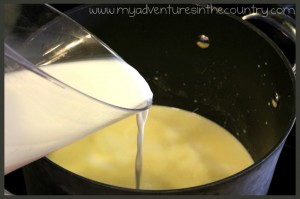 Stir and cook on medium heat until mixture starts to thicken, then reduce temperature to low. Add the cooked potatoes, bacon or ham, and cheese.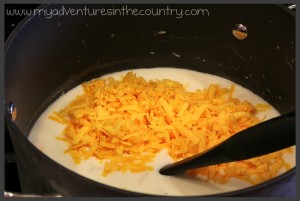 Stir until cheese is completely melted, then add sour cream.  Continue cooking on low temperature, stirring often until soup is evenly mixed.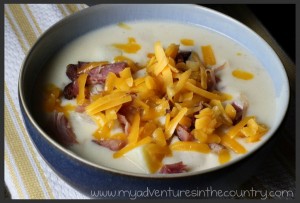 This soup makes 10-12 servings and looks great topped with green onions and extra cheese or bacon.  Hope you enjoy!