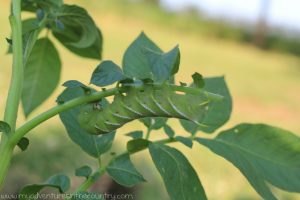 This little bugger is not a friend to your garden and is probably one of the most well-known garden pests around.  In the 10 years I've been planting tomatoes, I've actually not had any issues with them, but this year was a little different.
Overnight, my tomato plants went from full and lush, to stripped down to the point they were almost unrecognizable.  Now, I consider myself lucky.  I had over 40 tomato plants in the ground, so the ones that were munched down, didn't really affect my overall production.  And, we noticed them soon enough that a few of the plants actually grew new leaves and have actually started to produce fruit.  Smaller gardens may not have fared so well so that's just another reason to be sure to check the foliage on your garden plants every single day.
Tomatoes aren't the only thing tomato hornworms eat.  I knew I had read in one of my gardening books that they would also eat potato plants, since they are both in the same family, but I had never actually seen them there.  Well, that is, until this summer.  I enlisted the help of the hubster when I noticed the hornworm invasion on the tomatoes and we went out and painstakingly looked over each and every plant.  I had one jar that only had five worms in it, but I tilted it a little to far and the next thing I knew, I looked at the jar and there were only four.  We searched and searched for the escapee, but with no luck.  I knew he'd be back on the tomatoes soon, so I kept a close watch.
Well, I didn't find him on the tomatoes, but the potatoes! (That's him in the above photo…on the potato plant.)  I think it was near the potato plants that he actually fell out of the jar, so of course, that's where he ended up.  We picked him off the potato plant and disposed of him.  And now, I'm happy to say, we are tomato hornworm free on both the tomatoes and potatoes!