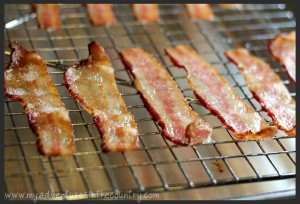 I love bacon, but I hate the mess it always creates when frying it on the stove top.  Grease splatters everywhere and inevitably, I get burned from the splatters, no matter how hard I try to avoid it.  So, how can you get the luscious, sweet flavor of hickory smoked bacon without the mess…by baking it in the oven, of course!

What you'll need for your baked bacon:
1 pound, thick-sliced hickory smoked bacon
1 cooling rack (to be used as a drip rack for the bacon)
1 cookie sheet (you can line this with foil for easier clean up)
Preheat your oven to 350˚
While your oven is preheating, cut your strips of bacon in half.  I usually just open the package and slice the whole thing right down the middle.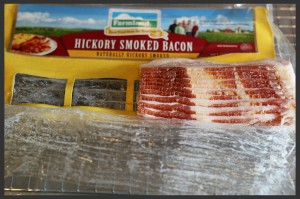 The half slices are the perfect size for adding to a sandwich and I think, easier to cut when still raw and stuck together.  Tip: place your package of bacon in the freezer for 20-30 minutes to partially freeze for even easier cutting.
Place your cooling rack down on top of your cookie sheet.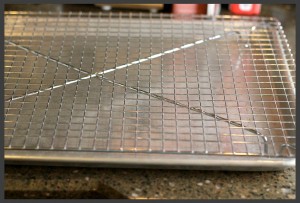 Lay each half slice of bacon down on your cooling rack, making sure that no bacon halves hang over the edge.  Allowing them to hang over will allow bacon grease to drop down into your oven and you're sure to have a stinky, sticky mess.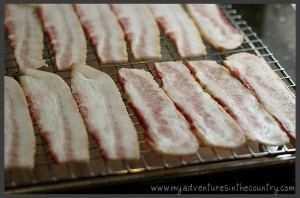 Place the cookie sheet with the bacon on it in the preheated oven for 15 minutes.  After 15 minutes, turn the oven to 375˚ and set the timer for 5 more minutes.  Do not remove the baking sheet while you're waiting for the temperature to rise…leave the bacon in there.
The higher temperature will finish cooking the bacon and give it a nice crispy, yet pliable texture.  Remove from oven after the second five minutes and blot with a paper towel to remove any grease that's still on top of the bacon.
We used our bacon slices on BLTs for the perfect summer sandwich!