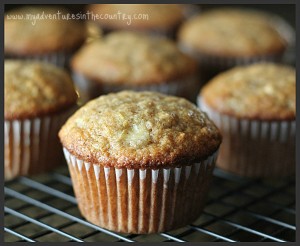 Well, it happened again.  Too many bananas, too little time.  So, what could be done with them….banana muffins of course! This is a recipe I posted on my
O So Sweet Cookies
site, but I wanted to take some new pictures since I now have my new camera. 🙂  I've been researching cameras for about a year now and finally took the plunge.
Anyhow, if you have extra ripe bananas on hand, just as we usually do, I suggest this recipe.  It's perfect for two people because it only makes 6-7 muffins, depending on size.

Cinnamon Banana Muffins
1/2 cup sugar
2 Tbsp vegetable oil
1 egg
1/2 cup ripe bananas (2 medium, mashed)
2 Tbsp whole milk
3/4 cup all-purpose flour
3/4 tsp baking powder
1/4 tsp baking soda
1/4 tsp salt
1 tsp cinnamon
1/4 to 1/2 tsp fresh nutmeg
Directions: In a large bowl, mix together the sugar, oil, egg, banana, and milk.  In a medium bowl, whisk the flour, baking powder, baking soda, salt, cinnamon, and nutmeg.  If using fresh nutmeg, you may want to reduce the amount just a bit.  Fresh nutmeg is much more potent than ground, but oh so good! Add the dry ingredients into the liquid ingredients and mix until just moistened.  Don't over mix! Scoop the batter into your paper-lined muffin cups, about 2/3 full. Bake in a 400 degree oven for 15-18 minutes.  Use a toothpick to check for doneness.  Cool muffins on a wire rack.  Makes 7 muffins.