While some may wonder if this blog is still active since it's been several months since I last posted, it most definitely is.  I've just been away for a while and for good reason. We were expecting our first child in December, so the preparations for her arrival kept me extremely busy, both at home and at work.  The blog was put on the back-burner and I hoped once she arrived, things could get back to normal.
Fast forward almost three months and meet Ellie Ann Oldehoeft!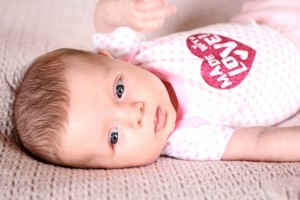 She was due Christmas Eve, but decided Christmas Day worked better for her.  I mean, what better birthday buddy to have than Jesus! 😉
While the "normal" has not yet returned and I'm sure it never will exactly, we are getting settled into a partial routine around here.  I will be going back to teaching toward the end of March, but hope I can start to get back into the kitchen a little more often.  I make it a point to try and cook something every night, but the variety of food hasn't been all that grand.  Quick and easy or crockpot meals have been a staple these last couple of months.
So, while I haven't been posting my adventures as of late, I hope to get back in the swing of things on a semi-regular basis.  I have so many fun adventures planned for Ellie and I over the summer, both in and out of the kitchen, I can't wait for her to participate!