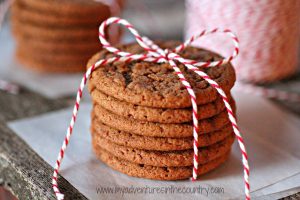 While the holidays are quickly approaching, I'm still working through my Diane Mott Davidson novels and loving them! This week, I'm sharing a recipe from Chopping Spree, Davidson's 11th novel, and I'm down to the last 20 pages and still don't know who done it! I think I'm close to figuring it out, but I'm just not quite there.  Davidson does such a great job of keeping the guilty party a secret, I love the anticipation of trying to solve the mystery!
So, in keeping with the upcoming holidays, the recipe options in this book were perfect.  I chose to try the Spice-of-Life Cookies partially because of the spices integrated into the cookies, but also due to the time factor.  I knew they would mix up relatively quickly and I didn't have a whole lot of daylight left to take pictures.   I did make a few modifications to the original recipe, mainly due to personal preference, but these cookies turned out wonderful!
If you are looking for a spicy, warm cookie fresh from the oven to finish a holiday platter, you've found the right recipe. Diane Mott Davidson's Chopping Spree, is full of great recipes that I know you will love and I think several are perfect for the holidays!
Spice-of-Life Cookies
November 12th, 2012
Ingredients:
1/2 cup unsalted butter, room temperature
1/4 cup shortening
1/2 cup granulated sugar
1/2 cup dark brown sugar
1 large egg, room temperature
1/4 cup molasses
2 cups all-purpose flour
2 tsp baking soda
1/2 tsp salt
2 tsp ground cinnamon
1 tsp ground ginger
1 tsp ground cloves
1/8 tsp ground nutmeg
Directions:
Preheat the oven to 375° and line four cookie sheets with parchment paper.
In a large mixing bowl combine the butter, shortening, and sugars together until light and fluffy, about 4 minutes. Beat in the egg and molasses and mix well.
Meanwhile, whisk together the flour, baking soda, salt, cinnamon, ginger, cloves, and nutmeg. Gradually add to the above mixture and mix until well combined.
Using a small cookie scoop, portion the dough out onto the parchment lined baking sheets. My cookies were small enough I could easily fit 15 cookies on each sheet. These cookies will spread, so if you are using a smaller cookie sheet, leave at least 2 inches between each cookie to allow for the spreading.
Bake in a 375° oven for 10-12 minutes or until the cookies spread and have a crackly surface. Remove from the oven and place cookie sheet on a cooling rack. Let cookies cool completely on cookie sheets.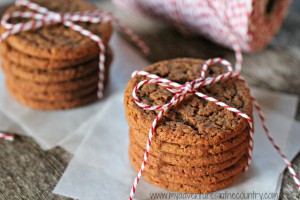 Notes:
The above links to the Diane Mott Davidson novels are amazon affiliate links. Each purchase made through my amazon store will result in my receiving a small percentage of the sale price.
Adapted from Diane Mott Davidson's novel, Chopping Spree
You Might Also Like: