[donotprint]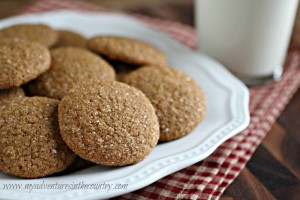 While this is the last recipe I'll be sharing from Diane Mott Davidson's, Tough Cookie, it won't be the last recipe I make of hers, that's for sure.  And if you haven't been fortunate enough to read Tough Cookie, I highly recommend it. It was probably the most suspense-filled book I've read of Davidson's so far.  This was the 9th book in the series and the 10th book I've read of hers and it was awesome.
This was one of those books where you think you have the crime figured out, but then something else happens and you're completely surprised.  I loved it! I was finishing up this book in bed one evening, but with my heart pounding during the last chapter or two, let's just say I wasn't as relaxed as I usually am at bedtime.
I was eventually able to go to sleep, but wow, what a great book.  And don't worry if you haven't read any of the other books and you decide to give this one a try.  Davidson does a great job of bringing you up to date with what's happened in any previous books to fill you in on the current book you choose.
So, for a little fall treat, I decided to try Diane Mott Davidson's Ice-Capped Gingersnaps, from the novel, Tough Cookie.  I made a few changes, though, and decided to leave off the frosting.  Right now, icings aren't doing it for me and the hubster isn't a fan of icing at any time, so it was only natural to leave it off the cookies.
These gingersnaps were moist and chewy on the inside and a little crispy on the outside.  A perfect combination for a cookie that can't help but get you in the mood for fall! I did reduce the original recipe by half and made slight changes to a few of the other ingredients, but nothing too major.  If you want the recipe for the icing, I encourage you to go check out the book at your local library or make the purchase.  I know you'll love it!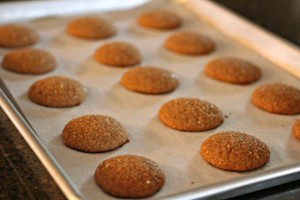 [/donotprint]

[cft format=0]