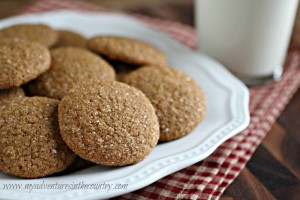 While this is the last recipe I'll be sharing from Diane Mott Davidson's, Tough Cookie, it won't be the last recipe I make of hers, that's for sure.  And if you haven't been fortunate enough to read Tough Cookie, I highly recommend it. It was probably the most suspense-filled book I've read of Davidson's so far.  This was the 9th book in the series and the 10th book I've read of hers and it was awesome.
This was one of those books where you think you have the crime figured out, but then something else happens and you're completely surprised.  I loved it! I was finishing up this book in bed one evening, but with my heart pounding during the last chapter or two, let's just say I wasn't as relaxed as I usually am at bedtime.
I was eventually able to go to sleep, but wow, what a great book.  And don't worry if you haven't read any of the other books and you decide to give this one a try.  Davidson does a great job of bringing you up to date with what's happened in any previous books to fill you in on the current book you choose.
So, for a little fall treat, I decided to try Diane Mott Davidson's Ice-Capped Gingersnaps, from the novel, Tough Cookie.  I made a few changes, though, and decided to leave off the frosting.  Right now, icings aren't doing it for me and the hubster isn't a fan of icing at any time, so it was only natural to leave it off the cookies.
These gingersnaps were moist and chewy on the inside and a little crispy on the outside.  A perfect combination for a cookie that can't help but get you in the mood for fall! I did reduce the original recipe by half and made slight changes to a few of the other ingredients, but nothing too major.  If you want the recipe for the icing, I encourage you to go check out the book at your local library or make the purchase.  I know you'll love it!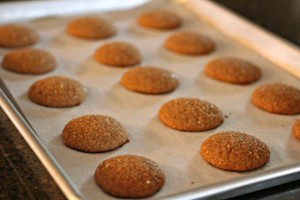 Ice-Capped Gingersnaps (Minus the Ice Cap)
October 8th, 2012
Ingredients:
3/4 cup dark brown sugar
1 stick unsalted butter, room temperature
1 egg
1/4 cup dark molasses
1 tsp apple cider vinegar
2 1/4 cups all-purpose flour
1/2 tsp baking powder
1/4 tsp baking soda
1/2 tsp salt
2 tsp ground ginger
1/2 tsp cinnamon
1/8 tsp ground nutmeg
1/8 tsp ground cloves
1/8 tsp ground allspice
1/2-3/4 cup raw sugar (or granulated) for dipping
Directions:
In a large mixing bowl, beat the butter and dark brown sugar until well-combined. Add egg and mix thoroughly, then slowly pour in the molasses and cider vinegar. Mix well.
Meanwhile, whisk dry ingredients together in a medium bowl. Begin slowly adding the dry ingredients to the butter mixture and mix until well-combined.
Measure out raw or granulated sugar into a small bowl or onto a plate. Using a small cookie scoop (mine was 1-tablespoon sized), portion dough out and roll in sugar and place on parchment lined cookie sheet. Leave about 2 inches between each cookie to allow for spreading. Mine spread some, but not as much as I anticipated.
Bake cookies at 350° F for 12-14 minutes. The longer baking time will result in a crispier cookie, so adjust your time based on how crisp you'd like your gingersnaps. (I prefer mine chewy on the inside with a little crunch around the outside edge.)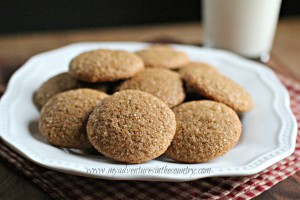 Notes:
The above links to the Diane Mott Davidson novels are amazon affiliate links. Each purchase made through my amazon store will result in my receiving a small percentage of the sale price.
Adapted from Diane Mott Davidson's novel, Tough Cookie
You Might Also Like: