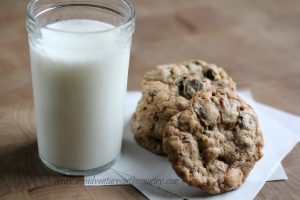 This week's Monday's Mystery Recipe is a doozy. Not that they typically aren't, but I'm particularly excited about these cookies.  The last book I read by Diane Mott Davidson,
Tough Cookie
, was sure to include some dandy cookie recipes, and of course, it delivered.
I do wish I could break out of the mold of typically finding the relatively easy recipes to make, but due to lack of time and daylight, that's what I end up making.  Hopefully, now that I'm taking a hiatus from the side baking business for a while, I will have more time to try some more difficult recipes.
So, for this week's Monday's Mystery Recipe, I decided to try Chocolate Coma Cookies, from Diane Mott Davidson's novel, Tough Cookie.  These cookies are jam-packed full of chocolate, almonds, and dried cherries.  I was hesitant to try them at first because I thought they were a cocoa based cookie, but after rereading the recipe, I realized they weren't.  And I was excited.  And I think you will be too! I can honestly say, these are now up there with one of my favorite cookies and that's saying a lot! Give 'em a try!
Chocolate Coma Cookies
October 1st, 2012
Ingredients:
1 cup blanched slivered almonds, toasted
1 12-oz bag of semisweet chocolate chips
1 cup dried tart cherries
2 cups all-purpose flour
1 tsp baking powder
1 tsp baking soda
1 1/2 tsp salt
4 oz. Ghirardelli's bittersweet chocolate, chopped
2 sticks (1 cup) unsalted butter, room temperature
1 cup granulated sugar
1 cup dark brown sugar
1 1/2 tsp vanilla extract
2 eggs, room temperature
2 cups old fashioned oats
Directions:
Preheat oven to 350°F. Pour almonds onto a small baking sheet and bake in 350° oven for 7-8 minutes or until just beginning to smell nutty. Remove and allow to cool.
In a medium bowl, combine the cherries, chocolate chips, and nuts. Set aside. In another medium bowl, whisk together the flour, baking powder, baking soda, and salt. Set aside.
Chop the bittersweet chocolate into pieces a little smaller than chocolate chips and set aside. (I didn't want large chunks, so mine were fairly small.)
In a large bowl of a stand mixer, combine the butter, granulated sugar, and dark brown sugar. Mix until well combined and fluffy, about 3-4 minutes. Add the vanilla, then add the eggs, one at a time, mixing well after each addition. Beat until well combined.
Slowly add the flour mixture, mixing well. Add in the rolled oats, followed by the chopped, bittersweet chocolate. Mix well. With a heavy spoon or rubber scraper, add in the cherries, chocolate chips, and toasted nuts. Stir to combine. Allow to sit for 10-15 minutes in the refrigerator before scooping.
Using a 1-tablespoon cookie scoop, portion dough onto a parchment-lined baking sheet, leaving 2 inches between cookies. Bake 12-14 minutes at 350° or until the cookies have set and are just starting to brown. Allow to cool completely on the baking sheet.
Caution: In using the 1-tablespoon sized scoop, my batch of dough yielded 9 dozen cookies versus the 6 dozen the original stated. So you may want to either reduce the recipe by half, or use a larger scoop, if you don't want to eat need that many cookies. 😉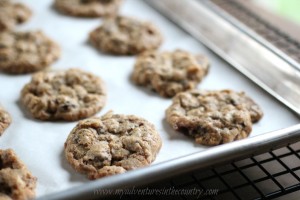 Notes:
The above links to the Diane Mott Davidson novels are amazon affiliate links. Each purchase made through my amazon store will result in my receiving a small percentage of the sale price.
Adapted from Diane Mott Davidson's novel, Tough Cookie
You Might Also Like: