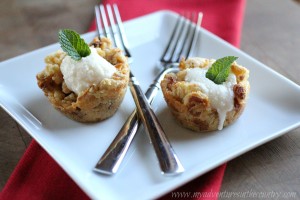 While it's been a long time,
again
, since I've last posted a Monday's Mystery Recipe, I hope to start back up again.  I think I said that last time, but let's hope it actually works. 🙂 I've just been a bit preoccupied with other things and thus, the blog has suffered.  That doesn't mean I haven't been cooking or baking or reading my mysteries, though.  I have lots of recipes to share and I truly hope to get back in the swing of things with the blog.  I've really missed it.
So, that being said, I'm actually two books past the one where this recipe came from, so I have several Monday's Mysteries to share. This is one that I decided to try because I had never made a bread pudding before and since it only made 12 small puddings, I figured it would be a perfect test recipe.
And while I don't know if I'd make it again, it was a nice dessert for us to try.  I think my choice of French bread in place of regular white bread may have compromised the texture of these yummy bread puddings.  It seemed a bit chewy, but still delicious.  I might have to try it again with white bread to see if it really does make a difference.
I also think that a sprinkle of powdered sugar instead of the Hard Sauce would have also been nice.  The kitchen did smell divine while they were baking in the oven.  Something I didn't mind at all. 🙂  So, here is a slightly adapted recipe from Diane Mott Davidson's novel, Prime Cut, for Big Bucks Bread Puddings with Hard Sauce.
Big Bucks Bread Puddings with Hard Sauce
September 24th, 2012
Ingredients:
1/2 loaf French bread, cut into 1/2" cubes (the original called for white bread)
1/3 cup raisins
5 Tbsp unsalted butter, room temperature
1/2 cup raw sugar (granulated may also be used)
2 eggs
1 cup whole milk
1/2 cup heavy whipping cream
1/4 tsp freshly ground nutmeg
1 tsp clear vanilla extract
fresh mint sprigs (optional)
Hard Sauce: (This is only half the recipe...I had more than half left after making the original.)
2 1/2 Tbsp unsalted butter, room temperature
2 Tbsp heavy whipping cream
1 cup sifted powdered sugar
1/8 tsp rum extract
Directions:
Preheat the oven to 325° and grease 12 nonstick muffin tins.  (I used Baker's Joy for this.)
Cream the butter and sugar until  well combined.  Add in the eggs, one at a time, beating well after each addition.  Pour in the milk and cream and beat until combined.  At this point, the mixture looks a bit strange.  I had large globs (that's a technical term here) of butter and sugar that hadn't mixed with the milk and cream yet.  Keep mixing on low until things combine more thoroughly.
Add in the freshly ground nutmeg and vanilla extract.  Fold in the bread cubes and raisins and continue to stir until the mixture looks like mush.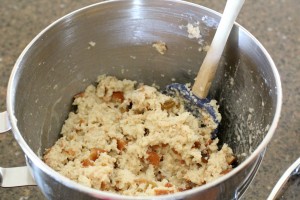 Using a large cookie scoop, mine was a 3 Tbsp-sized scoop, measure out 12 equal portions into your muffin tin.  Bake for 15 minutes, then remove from oven and stir the half-risen batter to break up the crust on the sides.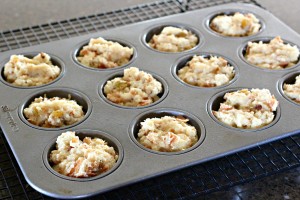 Place muffin tin back in the oven for another 20-25 minutes or until the puddings are set and lightly browned on top.  Mine took closer to 25 additional minutes to brown.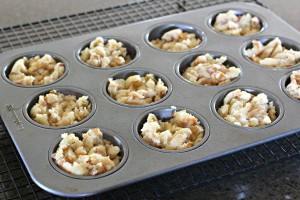 Once puddings are a nice golden brown, remove from oven and place on a wire rack to cool slightly. Mine were a tad crumbly, so be careful as you unmold them from the tins.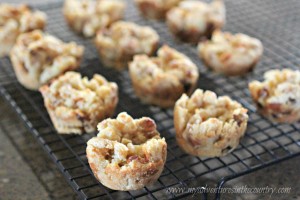 Serve with a small scoop of Hard Sauce and top with a mint leaf if desired.
Cream the butter until light and fluffy.  Gradually add in the whipping cream until combined. Slowly add the powdered sugar and beat until thoroughly combined.  Add in the rum extract and continue to mix until desired consistency.  You may need to add a little more cream.
Chill this in the refrigerator for at least 20 minutes before using.  I used a 1 Tbsp-size scoop, the smallest I had, to scoop out and place on my puddings and it was the perfect size.  Add a mint leaf if desired.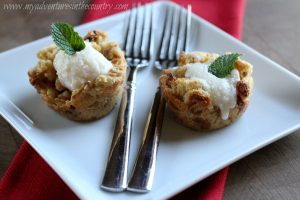 Notes:
The above links to the Diane Mott Davidson novels are amazon affiliate links.  Each purchase made through my amazon store will result in my receiving a small percentage of the sale price.
Adapted from Diane Mott Davidson's novel, Prime Cut
You Might Also Like: