[donotprint]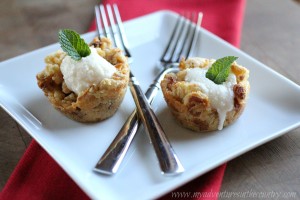 While it's been a long time, again, since I've last posted a Monday's Mystery Recipe, I hope to start back up again.  I think I said that last time, but let's hope it actually works. 🙂 I've just been a bit preoccupied with other things and thus, the blog has suffered.  That doesn't mean I haven't been cooking or baking or reading my mysteries, though.  I have lots of recipes to share and I truly hope to get back in the swing of things with the blog.  I've really missed it.
So, that being said, I'm actually two books past the one where this recipe came from, so I have several Monday's Mysteries to share. This is one that I decided to try because I had never made a bread pudding before and since it only made 12 small puddings, I figured it would be a perfect test recipe.
And while I don't know if I'd make it again, it was a nice dessert for us to try.  I think my choice of French bread in place of regular white bread may have compromised the texture of these yummy bread puddings.  It seemed a bit chewy, but still delicious.  I might have to try it again with white bread to see if it really does make a difference.
I also think that a sprinkle of powdered sugar instead of the Hard Sauce would have also been nice.  The kitchen did smell divine while they were baking in the oven.  Something I didn't mind at all. 🙂  So, here is a slightly adapted recipe from Diane Mott Davidson's novel, Prime Cut, for Big Bucks Bread Puddings with Hard Sauce.[/donotprint]
[cft format=0]