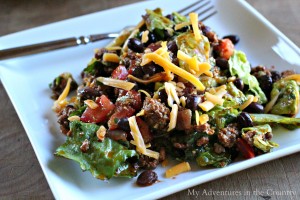 Summer is in full swing here with weeks upon weeks of 100° temperatures (and no end in site..boo!).  Needless to say, I haven't been too crazy about turning on the oven.  So, I decided to make one of our favorite recipes for dinner the other night, taco salad.
This is hands down, my favorite recipe for taco salad…I even took it to a get together with friends not too long ago. It was a Mexican themed dinner and of course, I volunteered to bring this recipe since my hubby and I love it so much. I just thought others might adore it as well and I was correct.  A salad full of romaine, tomatoes, black beans, and avocados, how could you go wrong?
So, if you've been looking for a great recipe for taco salad, you must try this one.  It originally came from epicurious.com and after a few minor modifications, it has become a staple at my house when it comes to Mexican meals.  Don't be intimidated by the various steps.  They really go very quickly and this salad is very quick and easy to prepare.  Enjoy!
Layered Taco Salad
July 27th, 2012
Ingredients:
For the Dressing
2 teaspoon sugar
2 tablespoons chili powder
1 teaspoon ground cumin
1/2 teaspoon salt
1/2 teaspoon black pepper
1/2 cup fresh lime juice (2-3 limes, room temperature)
1/2 cup chopped fresh cilantro
1/4 cup olive oil
For the Beef Mixture
2 tbsp olive oil
1 medium onion, chopped
4 garlic cloves, minced
1 to 2 fresh jalapeno peppers, finely chopped (leave the seeds out for less heat)
1 1/2 tbsp chili powder
1 tbsp ground cumin
1 to 1 1/2 lbs lean ground beef or ground turkey
1 8-oz can tomato sauce
1/2 teaspoon salt
1/2 teaspoon black pepper
Directions:
For the Dressing:
In a small bowl, combine the sugar, chili powder, cumin, salt, and pepper.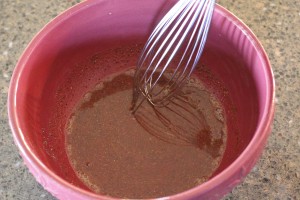 Juice the limes and add the cilantro to the spice mixture.  Whisk to combine.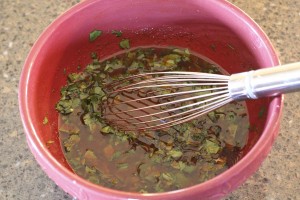 Add oil in a steady stream, whisking until emulsified.  Set aside.
For the Beef Mixture:
In a 12-inch skillet, saute' onion, garlic, jalapenos, chili powder, and cumin in 2 tablespoons of oil over medium heat until crisp tender, about 7-8 minutes.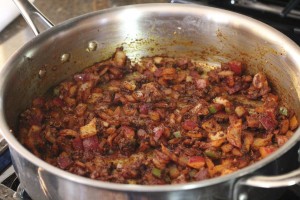 Add the ground beef or turkey and cook, stirring occasionally, until meat is no longer pink.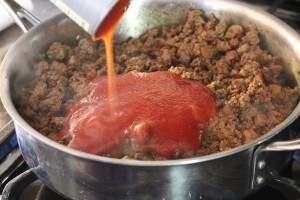 Add the tomato sauce, salt, and pepper to the beef mixture.  Cook and stir until mixture thickens, about 5 minutes. Remove from heat.
Assembling the Salad:
Note: This recipe makes a nice 5-6 serving meal, depending on portion sizes.  If you plan on keeping some as leftovers, don't combine all the lettuce, meat and dressing at once.  Leftovers are best kept separate.
Peel and pit the avocados, then cut into bite-size pieces.
Wash and chop the lettuce and spread over the bottom of a large dish.  Wash and dice the tomatoes and shred the cheese.  Rinse and drain beans.
Spoon the beef mixture evenly over the lettuce.  Layer the tomatoes, beans, avocado, and cheese.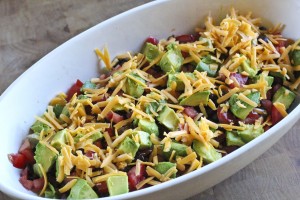 Whisk the dressing again and drizzle over salad.  Stir to combine.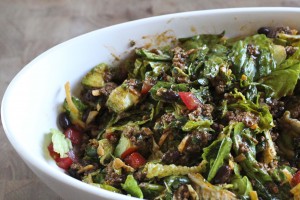 Serve with freshly grated cheese and tortilla chips. Enjoy!!!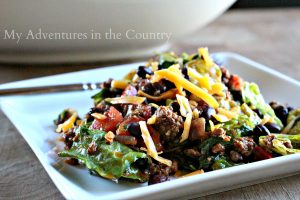 Adapted from epicurious.com
You Might Also Like: