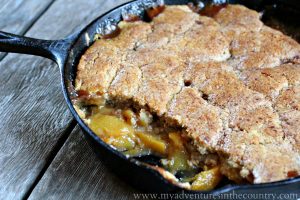 I'm so excited about this post.  I know it's probably hard to believe, but I've never actually made a true cobbler.  So, to hear this month's
Kitchen Bootcamp Challenge
was crisps, cobblers, and fruit desserts, I knew exactly what I wanted to make.  I just didn't know what type of fruit I was going to use.
I had hoped to try a blackberry cobbler using my homegrown blackberries, until the first heat wave hit.  Then, they went kaput.  They shriveled up in a matter of days and I knew I would have to change my plans.  So, after a trip to the market and some absolutely delicious, juicy peaches fell into my hands, I decided to try a peach cobbler.
I'm really pleased with how this recipe turned out.  I did some searching online to get some inspiration and decided on this recipe from foodnetwork.com.  The original recipe included bourbon, but I left that out and made a few other changes and was really happy with the results.
The cobbler topping was crisp on the outside and soft and tender on the inside and was perfect with the spiced peaches.  I'm submitting this recipe for the July Kitchen Bootcamp Challenge and I hope you'll go check out all the fun recipes that I know will be there.  The roundup will post on July 31, so be sure to stop by and check them out!
Old Fashioned Peach Cobbler
July 22nd, 2012
Ingredients:
1/4 cup dark brown sugar
2 Tbsp cornstarch
1 1/2 tsp cinnamon
1/4 tsp freshly ground nutmeg
8 cups peaches, peeled and sliced (7-8 large)
Cobbler Topping
1 1/2 cups all-purpose flour
1/2 cup brown sugar
2 tsp baking powder
1 tsp kosher salt
2 sticks unsalted butter, divided
1/2 cup whipping cream
2 Tbsp whipping cream for brushing on top
1 Tbsp granulated sugar for topping
Directions:
For the filling:
Combine the sugar, cornstarch, cinnamon, and nutmeg in a large bowl and stir to remove any lumps.
Wash peaches and slice in half to remove the pit.  I used a serrated peeler to remove the soft, fuzzy flesh of the peaches, but if you don't have one, you can either blanch them to remove the skin, or use a pairing knife. If using the serrated peeler, cut peaches in half before peeling.  I found the peaches were too soft to twist once the skin was removed.

Once the peach pits are removed, peel and slice into the bowl with the dark brown sugar, cornstarch, cinnamon, and nutmeg. Stir to combine and set aside.
For the topping:
Preheat oven to 375°.  In a medium bowl, whisk together the 1 1/2 cups all-purpose flour, brown sugar, baking powder, and salt.  Cut in 1 1/2 sticks of the butter, using a pastry blender, until the mixture resembles coarse crumbs.
Gradually add in the 1/2 cup whipping cream and stir, just until the mixture sticks together. This dough will be fairly stiff and sticky.  Set aside.
Using a 10" cast-iron skillet, melt the final 1/2 stick of butter over medium-low heat.  Once melted, pour in the peach mixture and heat over medium to medium-low heat until the mixture becomes thick and bubbly, about 5-10 minutes.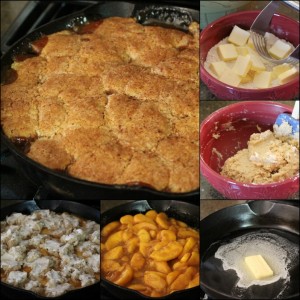 Drop topping mixture onto peaches by rounded teaspoonfuls.  Distribute evenly around the top, but don't worry about covering completely.  The topping will spread out during baking. Brush topping with remaining whipping cream and sprinkle with granulated sugar and a little more cinnamon, if desired.
Bake in 375° oven for 40-45 minutes or until filling is bubbling and cobbler topping is nicely browned.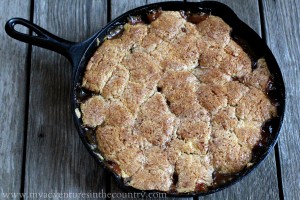 This makes 6-8 nice size portions.  Serve warm or room temperature.  To reheat, just place in a 350° oven for 10-15 minutes or until heated through. Serve and enjoy!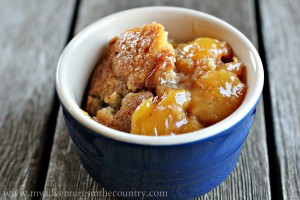 You Might Also Like: