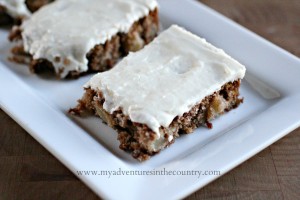 Yes, I'm still here.  I know it's been a ridiculously long time since I last posted a Monday's Mystery Recipe, but things around here have been more than crazy. The month of May was terribly busy with my side baking business and graduation cakes, cookies, and cupcakes.  Not only was I swamped with orders, but I also had to pack up and move my entire classroom, up four floors.  And my classroom is a big one.  Four kitchens and resources for seven classes and the temporary room is only about 1/3 the size of my old room.  So, needless to say, I've been a bit preoccupied with a few other things as of late. But, school is done and the orders have slowed down a bit, so I'm happy to say things are
hopefully
going to get back to normal around here. Thank goodness!
I am still currently reading Prime Cut, by Diane Mott Davidson.  I actually checked this book out in May, but haven't been reading much this summer.  So, the first recipe I decided to try was a spice cake called "Blondes' Blondies".  (Technically, it's more like a cake than a bar.)  While reading through the ingredients of apples, dark brown sugar, and several of my favorite spices, I decided it was worth trying.
I also made the Creamy Citrus Frosting given along with the recipe, but I actually found it to be a bit too sweet for my tastes.  I think a nice citrus cream cheese frosting would have been better, but of course, that's my personal opinion.  You may love it!
Blondes' Blondies
July 16th, 2012
Ingredients:
1 cup dark brown sugar, firmly packed
2 cups Granny Smith apples, peeled and diced
1/2 cup unsalted butter
1 egg
1 1/2 cups cake flour
1 tsp baking soda
1 tsp Kosher salt
1 1/4 tsp ground cinnamon
1/4 tsp freshly ground nutmeg
1/4 tsp allspice
1/2 cup golden raisins
1/2 cup pecans, chopped
Creamy Citrus Frosting (Adapted from Diane Mott Davidson's novel, Prime Cut)
2 Tbsp unsalted butter, room temperature
1 tsp finely grated orange zest
1 1/2 cups powdered sugar, whisked or sifted to remove lumps
2 Tbsp fresh orange juice
Directions:
Preheat the oven to 325° and butter a 9 x 13 metal pan.
Meanwhile, in a large mixing bowl,  combine the diced apples with the brown sugar.  Stir to combine and set aside to allow the juices to form.
In a small bowl, melt the butter and set aside to allow to cool.  In a separate small bowl, gently beat the egg.
Whisk together the dry ingredients.
Combine the egg and melted butter and stir until well-combined.  Pour this into the apple mixture.
Slowly add the dry ingredients into the apple mixture and mix until just combined.  Do not over mix.
Fold in the golden raisins and pecans.  Pour batter into prepared pan.  Batter will be thick.  I used a off-set spatula to help spread the batter evenly into the pan.
Bake in 325° for 20-25 minutes or until a toothpick inserted comes out clean.  Mine took closer to 25 minutes to bake.
Allow the bars to cool to room temperature and while waiting for them to cool, prepare the frosting.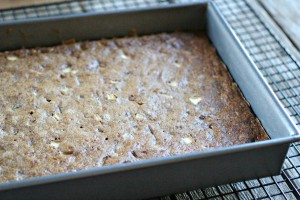 For the Frosting:
Beat the unsalted butter and grated orange zest in a medium bowl until smooth and creamy.  Slowly begin adding the powdered sugar.  Add orange juice, little by little, to keep the powdered sugar from flying out of the bowl. 🙂
Once frosting is smooth and combined, use an off-set spatula to spread over the cooled bars.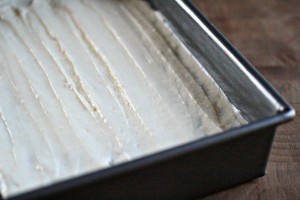 Cut into 24 medium to 32 small bars.  I would suggest the smaller bars if you add the frosting, although I will admit,  I only frosted half my pan.  The hubs doesn't enjoy frosting that much and we both actually ate more without the frosting than with it.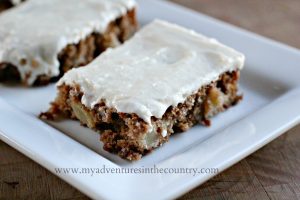 Notes:
The above links to the Diane Mott Davidson novels are amazon affiliate links.  Each purchase made through my amazon store will result in my receiving a small percentage of the sale price.
Adapted from Diane Mott Davidson's novel, Prime Cut
You Might Also Like: