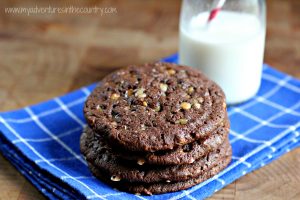 Yesterday was such a rainy and dreary day here.  I had planned on grilling and making Diane Mott Davidson's, Grilled Chicken a' l'Orange from her novel, 
The Grilling Season
, but due to the rain, I had to settle for something else.  That something else turned out to be Chocolate Comfort Cookies.  Maybe not a good idea for supper, but still a good idea. 🙂
These cookies remind me of a brownie, only in cookie form.  I did make several adjustments to this recipe, though, so if you're looking for the original, I'd either purchase the book or check it out from your local library.  The original recipe can be found in Diane Mott Davidson's, The Grilling Season.
One of the unique things about this particular recipe is that it includes marshmallow cream in the dough.  I had never made a cookie that included that in its list of ingredients before.  I wasn't sure how it would bake, but I think it helped give the cookie a nice, chewy texture.  If I make these again, I will try using the whole container of marshmallow cream.  I had about 1/4-1/2 cup left over and I'm not sure what else I'm going to do with it.  I just didn't want to try it with this recipe since I was planning to share it today.
So, if you're in the mood for some chocolatey goodness, try out these Chocolate Comfort Cookies.  They were delicious!
Chocolate Comfort Cookies<
April 30th, 2012
Ingredients:
2 cups + 2 Tbsp all-purpose flour
1/2 tsp baking powder
1 tsp salt
1/4 cup Dutch-processed cocoa
1 cup unsalted butter, room temperature
1 cup sugar
3 oz. cream cheese, room temperature
1 egg
2 tsp vanilla extract
2 Tbsp whole milk
2 oz. unsweetened chocolate, melted
1 cup marshmallow cream
1 cup chopped, toasted pecans (Toast in oven at 350° for 8-10 minutes)
2 cups Heath's Bit 'O Brickle Toffee Bits
Kosher salt for sprinkling on top
Directions:
Preheat oven to 325° and grease or line 4 baking sheets with parchment paper.  In a medium bowl, whisk together the flour, baking powder, salt, and cocoa.  Set aside.
In a large bowl, cream together the butter and sugar.   Add cream cheese and egg and continue mixing until smooth.  Beat in the vanilla, milk, and melted chocolate.
Slowly add the dry ingredients to the creamed mixtures.  Slowly add in the marshmallow cream, mixing until well-combined.  Fold in the toasted pecans and toffee bits.
Using a large cookie scoop (3-4 Tbsp size), measure out the dough onto the cookie sheets, leaving at least 2 inches between each cookie.  I only placed 6 cookies per sheet and there was ample space for them to spread.  Sprinkle each cookie with a little Kosher salt and a few more toffee bits if desired.
Bake in 325° oven for 15-17 minutes.  These were a little hard to tell when done since they are already dark in color.  I went with the "touch" test.  I gently touched the top of the cookies to see how much give they still had.  A little soft is okay, doughy, not so much.  Most of mine were done in the 15-16 minute mark.  (I started with 13, but added 1-2 minutes, depending on the "touch" test.)
Cool cookies completely on cookie sheet. Makes around 2 dozen large cookies.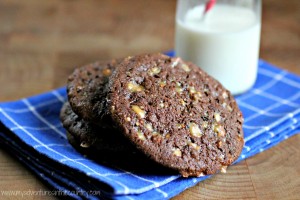 You Might Also Like: