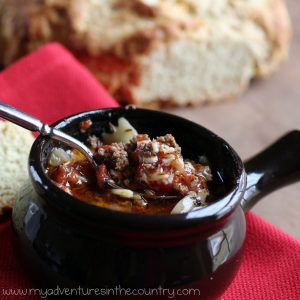 Even though spring is upon us and recent temperatures have climbed into the 80's, I still wanted to share a quick and easy recipe for this Italian soup.  I originally found the recipe in a small, Campbell's cookbook, but I've adapted it just a bit, to try and use as many fresh foods as I could.
It's actually very easy to make and goes together quickly.  With just a few adjustments, I was able to use lots of fresh ingredients and the only canned items came from my home canning supply.  A win-win, if you ask me.  I also think simple additions to this would put a nice spin on the soup.  Fresh sweet corn or green beans would also be great in this tasty dish.
So, if you're looking for a quick and easy soup, this could be your new go-to soup. I hope you enjoy it as much as we do!
Hearty Italian Soup
April 7th, 2012
Ingredients:
1/2 cup onion, chopped
1-2 cloves minced garlic
2 tsp olive oil
1 lb. lean ground beef or ground turkey
5 1/2 cups beef broth
1 can Italian stewed tomatoes (I used my own Italian canned tomatoes)
2 cups bow-tie pasta
1/4 cup grated Parmesan cheese
Directions:
Prepare the onion and garlic and set aside.  Place the olive oil in a large Dutch oven and begin to brown the hamburger or turkey, onion, and garlic, stirring often.  Continue to cook until the meat is no longer pink and the onions and garlic are tender.  Add the broth and Italian stewed tomatoes.  Bring this mixture to a heavy boil.
Once boiling, stir in the bow-tie pasta and allow to cook for 10-15 minutes or until noodles are tender.  You may need to turn the heat down to medium while the noodles are cooking, so the soup doesn't boil over.
Serve with a sprinkling of freshly grated Parmesan and homemade Irish soda bread.  It's perfect for dipping and soaking up this deliciously simple Italian soup. Enjoy!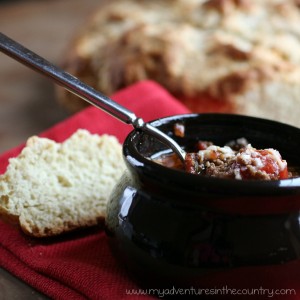 You Might Also Like: