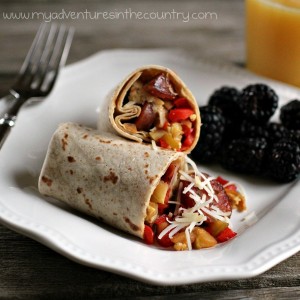 Even the rain can't get me down this week! I have been looking forward to spring break for months now, and since we've had
ZERO
snow days at school, I was really ready for a week off.  Ah, the weather forecast.  Rain for the first five days…oh well! Because it's been so warm here (in the mid to upper 70's and even a few days in the 80's), all the trees and grass think it's spring! Everything is waking up and overcast or not, I love seeing all the flowers begin to peak their little heads out from their winter slumber.  Hopefully, we can avoid a late frost and continue on with spring.
All this dreary weather has me cooped up in the house, but I had some cookie baking to do yesterday morning, so I was up early doing my baking.  I realized around 9:00 or so, that I hadn't eaten breakfast.  So, I poked around in the freezer and discovered I still had some chicken and apple sausages! BINGO! These are some of my favorites and it seems like I always forget they are there!
This recipe is something I just came up with using what ingredients I had on hand.  You could mix it up and add whatever veggies or meat you like, but I particularly enjoyed the apple and chicken sausage together.  Oh, and did I mention that I also added apple smoked cheddar cheese? No? Well, I did…and it was delicious!
Hearty Chicken & Apple Sausage Breakfast Burritos
March 21st, 2012
Ingredients:
1 tsp olive oil
1 chicken & apple sausage link, sliced
1/4 of a large, sweet red pepper, diced
1/2 of a Granny Smith apple, diced
1 egg
1/4 cup finely shredded Apple Smoked Cheddar Cheese
3 whole wheat tortilla shells
Directions:
Slice chicken and apple sausage link into 1/2" slices.  Dice both the pepper and half the apple.  Set aside.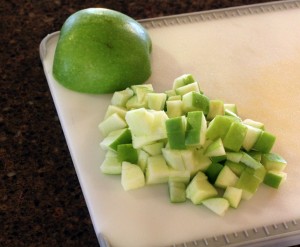 Place the egg in a small bowl and add about a teaspoon of water and whisk with a fork until well-mixed.  Also set aside.
Heat the oil in a 10" non-stick skillet on medium low heat.  Add the diced red pepper and saute for 2 minutes or until slightly tender.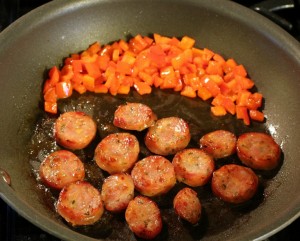 Push the pepper over to one side of the skillet and add the chicken slices.  Brown for 1-2 minutes, then flip and brown the other side.  Continue to cook until golden brown.  Be sure to keep the heat on medium low.  The chicken and apple sausage I used also had small pieces of cheese in it.  Once the sausage is browned, stir the peppers back in and transfer mixture to a bowl.
Add diced apple to skillet and cook for 1-2 minutes or until the apple begins to soften.  Don't cook too long.  You don't want your diced apple to become mushy!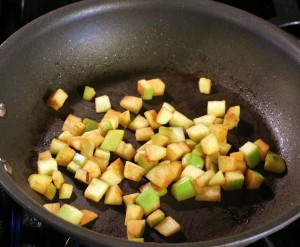 Once the apple is cooked, return the sausage and red pepper back to the skillet and push to one side.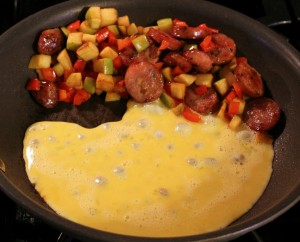 Stir the egg a little before adding to the other side of the skillet.  Scrape the egg around to scramble and continue to cook until it no long looks wet.
After egg is completely cooked, stir all ingredients together and turn off burner.  Heat tortilla shells for easier folding.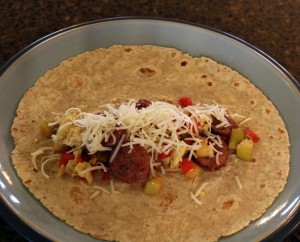 Add about 1/3 of the mixture to the tortilla shell and sprinkle with shredded cheese.  Fold tortilla and serve!
This recipe will make 2-3 breakfast burritos, depending on shell size.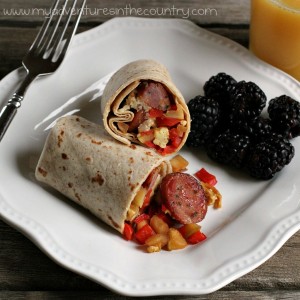 You Might Also Like: