[donotprint]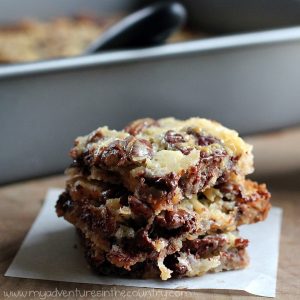 This week's Monday's Mystery Recipe is going to be a little different than the usual post.  I've just started my newest novel, Killer Pancake, by Diane Mott Davidson, but I know I won't be finishing it in the three-week span I normally do.  So, to supplement the time it will take to get through it, I've decided to add my own mystery recipe.  Okay, actually this is my husband's recipe, rather his favorite bar cookie recipe from childhood.
My husband had quite the sweet tooth growing up and his mom used to make these for him before he had the unfortunate Halloween incident.  The Halloween incident involved him eating pretty much an entire brown grocery bag (okay, probably not a whole bag, but he claims it was pretty full :)) of Halloween candy.  His mom told him not to eat too much because he would get sick, but you know how kids are with their candy. And of course, he ran straight up to his room and devoured all the candy he could and was then miserable for days.
When we first started dating he would always tell me he didn't like sweets and I thought he was crazy! But, after years of not eating sweets and being married to a gal who's constantly baking and making sweets, I converted him back to the sweet side. 😉
Yesterday, when I told him my plan for today, I asked if there was something he'd like me to make and he said Hello Dolly Cookies.  Since I didn't have a recipe for those, I had to make a quick call to my mother-in-law.  (She's the BEST mother-in-law in the world by the way.) 🙂 Anyhow,  a quick call to her for the recipe and off I went.  I decided to rename them PJ's Favorite Bar Cookies for the Monday's Mystery Recipe, but typically, they are known as Hello Dolly Cookies around here.
The simplicity of this sweet and dreamy bar cookie is wonderful if you're in a hurry for a quick dessert that's rich and delicious.[/donotprint]
[cft format=0]