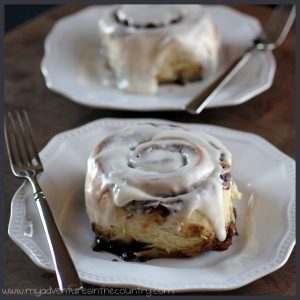 I don't know what it is, but for the past several weeks, I've been craving cinnamon rolls.  I've made them in the past and they really aren't as much work as you'd think, but I just haven't gotten around to it.  I have a recipe that I really enjoy and can use it for dinner rolls or cinnamon rolls, but haven't made them since I started my blog.  It's on the to-do list, shall we say.
And, it's going to have to remain there for a while because I've quenched my cinnamon roll craving, at least for a while now. 🙂 Why you ask? Because it just so happens that I found this Monster Cinnamon Rolls recipe in my current mystery novel, The Last Suppers, by Diane Mott Davidson! How perfect is that! Sometimes I think it's strange how often little coincidences like that happen, but that's for another post.
These cinnamon rolls were ginormous and delicious and some of my co-workers are going to get a tasty treat because of this! I baked them yesterday and was pleasantly surprised.  The dough seemed a bit heavy to begin with and after I rolled it out, I wasn't sure that it would rise well, but it did.
A word of warning.  You do need a large counter top or large table to roll the dough out on….24 x 36 inches to be exact.  If you don't have that much space available, I would recommend rolling the dough out in two portions.  The entire batch only makes 12 cinnamon rolls, but don't be fooled.  These are BIG cinnamon rolls! I think you could easily serve four people with one roll! Are you anxious to get started yet? Well here you go.  This week's Monday's Mystery Recipe is Monster Cinnamon Rolls from the Diane Mott Davidson novel, The Last Suppers.
Monster Cinnamon Rolls
February 27th, 2012
Ingredients:
For the Dough:
1 1/2 sticks unsalted butter
1 cup whole milk
3/4 cup plus 1 teaspoon sugar
1 1/4 tsp salt
3 - 1/4 oz. envelopes active dry yeast OR 7 1/2 teaspoons
1/2 cup warm water
5 large eggs
8 1/2 - 9 1/2 cups all-purpose flour
For the Filling:
5 cups firmly packed brown sugar
2 1/2 sticks unsalted butter, softened
3 Tablespoons ground cinnamon
For the Frosting:
8 oz. cream cheese, softened
1/4 cup whipping cream, approximately
1 teaspoon vanilla extract
3-4 cups confectioners' sugar, sifted
Directions:
Heat the butter, milk, 3/4 cup sugar, and salt in a small saucepan until the butter is melted. Allow to cool for 10-15 minutes.  In a large mixing bowl, combine the yeast, warm water, and remaining teaspoon of sugar, stirring to combine.  Allow this mixture to set for 10 minutes until it becomes bubbly.  (Mine became a large mound of bubbles.)
After 10 minutes, add the eggs and cooled milk mixture.  Stir until well combined. Then begin adding the flour, one cup at a time, stirring and using enough flour to form a stiff dough.  Turn the dough out onto a lightly floured surface and knead until smooth and satiny, about 10 minutes.  Or, you can use an electric stand mixer with a dough hook for about 5 minutes.
Place the dough in a large, greased bowl and turn to coat.  Cover with a damp towel and allow dough to rise until doubled in bulk, about an hour.  Punch the dough down and roll out into a large rectangle, 24 by 36 inches.  (Mine was actually only about 21 by 29.  The dough appeared thin, so I wanted to make sure I wasn't rolling it out too much.)
Spread filling (recipe below) evenly over the surface of the dough and roll up lengthwise.  Cut in 2-inch sections using a serrated bread knife or waxed dental floss.  This will make 12-14 large rolls.  Place 6 rolls in a greased 9 x 13 baking dish and cover loosely with a kitchen towel and allow to rise until doubled in bulk, about an hour.  (Mine took 1 1/2 hours.)
Preheat oven to 350°.  Bake the rolls for 20 to 30 minutes or until puffed and browned.  (Mine took about 28 minutes.)  Allow to cool on a wire rack.
For the Filling:
Beat the butter, brown sugar, and cinnamon with an electric mixer until well-combined.
For the Frosting:
Beat the cream cheese, cream and vanilla until well combined.  Add the confectioners' sugar and beat until smooth and soft, not stuff.  Frost rolls and serve immediately.
This recipe makes 12 large rolls.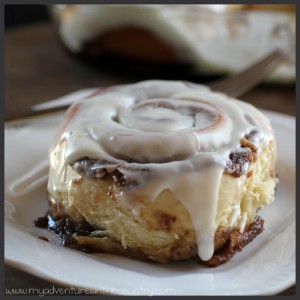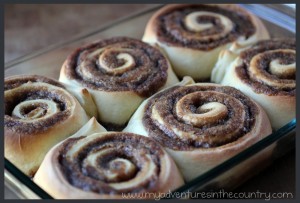 You Might Also Like: