[donotprint]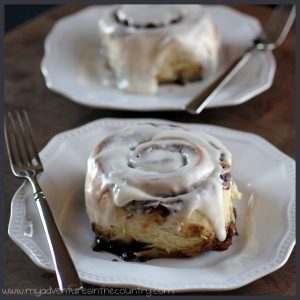 I don't know what it is, but for the past several weeks, I've been craving cinnamon rolls.  I've made them in the past and they really aren't as much work as you'd think, but I just haven't gotten around to it.  I have a recipe that I really enjoy and can use it for dinner rolls or cinnamon rolls, but haven't made them since I started my blog.  It's on the to-do list, shall we say.
And, it's going to have to remain there for a while because I've quenched my cinnamon roll craving, at least for a while now. 🙂 Why you ask? Because it just so happens that I found this Monster Cinnamon Rolls recipe in my current mystery novel, The Last Suppers, by Diane Mott Davidson! How perfect is that! Sometimes I think it's strange how often little coincidences like that happen, but that's for another post.
These cinnamon rolls were ginormous and delicious and some of my co-workers are going to get a tasty treat because of this! I baked them yesterday and was pleasantly surprised.  The dough seemed a bit heavy to begin with and after I rolled it out, I wasn't sure that it would rise well, but it did.
A word of warning.  You do need a large counter top or large table to roll the dough out on….24 x 36 inches to be exact.  If you don't have that much space available, I would recommend rolling the dough out in two portions.  The entire batch only makes 12 cinnamon rolls, but don't be fooled.  These are BIG cinnamon rolls! I think you could easily serve four people with one roll! Are you anxious to get started yet? Well here you go.  This week's Monday's Mystery Recipe is Monster Cinnamon Rolls from the Diane Mott Davidson novel, The Last Suppers.[/donotprint]
[cft format=0]