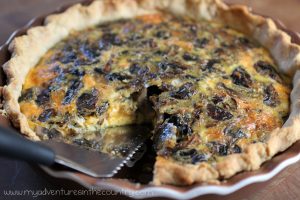 I'm so excited to be writing this post.  I've been anticipating what I would make and just decided this morning what it would be.  I'm participating in
My Kitchen Addiction's Kitchen Bootcamp Challenge
for the first time and I couldn't be more excited! This month's challenge was eggs, which honestly, I wasn't too thrilled about.  I'm not a big
egg
fan.  The hubster is, though.  He could probably eat eggs for breakfast every single day and be one happy camper, but I prefer yogurt, fruit, or something on the lighter side.
So, when I learned the challenge was eggs, my procrastinating nature took over.  While I admit that procrastinating isn't a good habit to get into, I must say it worked in my favor.  While I was scanning the new catalogs that came in the mail the other day, I just happened to get one from King Arthur Flour.  Lo and behold, as I was thumbing through its delicious pages, I came upon a recipe for a mushroom cheddar quiche.  It looked delicious, the hubster loves mushrooms, and I could use it for my challenge recipe! Bingo..I'd found my recipe!
While I wouldn't consider myself an egg making expert (I'll leave that to the hubby), I have made my share of egg dishes.  But something I had not previously made was a quiche.  I had hoped to try and tackle a souffle for this challenge, but due to my procrastination, I ran out of time.  Regardless, I was still happy with the challenge as it made me get outside my comfort zone, not only with the eggs, but also the mushrooms.  (I'm not a big fan, but sacrificed for my husband.) 😉
So, here is the quiche recipe, adapted from King Arthur Flour.
Mushroom & Cheddar Quiche
February 25th, 2012
Ingredients:

Super Easy Pie Crust for 1-9" Shell
2 cups all-purpose flour
1/2 tsp salt
1/2 cup milk
1/4 cup vegetable oil
Quiche Filling
2 tablespoons unsalted butter
1/2 cup red onion
8 ounces button mushrooms, sliced
3 cloves of garlic, minced
1 tablespoon dried thyme
1/2 teaspoon salt plus 1 teaspoon salt
fresh ground black pepper to taste
8 eggs, large
1/2 cup whole milk
1 cup shredded cheddar cheese
Directions:
Preheat oven to 375°. Prepare the 9" crust, cover and set aside.
Prep the vegetables by chopping the onion and garlic and slicing the mushrooms.  Next, combine the eggs and whole milk together in a medium bowl.  Stir with a fork to break the yolks and combine with the milk.
Melt the two tablespoons of butter in a large skillet over medium high heat until it foams.  Add the onion and cook until tender, about 5 minutes.   Add the mushrooms and cook until they start to release their juices.  Add in the garlic, thyme, 1/2 tsp salt, and pepper.  Mix until combined, then remove from heat.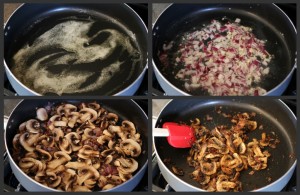 Add the teaspoon of salt to the egg mixture and stir vigorously to mix and add air for volume. Once egg mixture is well incorporated, begin assembling the quiche.
Spread the cheese out over the bottom of the crust.  Next add the mushroom mixture, and finally, pour the egg mixture over the top of the mushrooms.   Place the pie plate on a large cookie sheet and place in the 375° oven and bake for 35-40 minutes.  (Mine actually took closer to 50 minutes to fully bake.)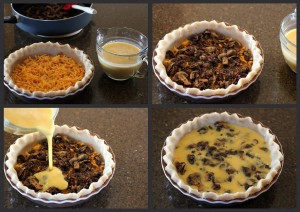 The final product will look puffed in the center and will not jiggle when slightly shaken.  I also inserted a knife to check for doneness and that worked well.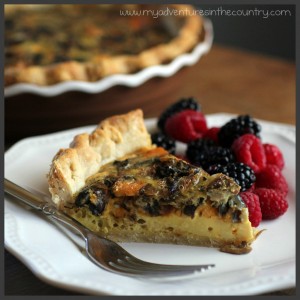 This made a hefty 9" quiche that would be wonderful for brunch or even a great alternative for dinner! Serve with fresh berries to add color and freshness to your plate!
Notes:
Crust for one 9" pie (I used my Super Easy Pie Crust Recipe, but reduced the amounts by one third). Here are the measurements for a single 9" crust.  See this post for detailed instructions on how to make the crust.  It's very easy!!!
You Might Also Like: