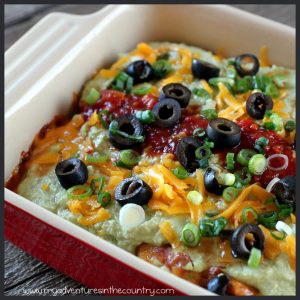 I always enjoy looking through my current mystery novel to find a recipe to share with you.  This week, I had hoped to try a baked doughnut recipe, but since I was gone all day on Saturday and had cupcakes to make for a friend on Sunday, I didn't have as much time to dedicate to this week's post as I had hoped.
I did, however, make a tasty little dish called Nachos Schulz.  This recipe comes from the book, The Cereal Murders, by Diane Mott Davidson.  I should be finishing up this book in the next day or so, and then it's time for The Last Suppers.  I can't wait!
This recipe went together very quickly and the hubby loved it.  I decided since I wasn't making this for a special occasion, I should reduce the number of servings, so we weren't eating nachos for days.  It was easy to reconfigure and the measurements are easily adjustable to your liking.  And after the reaction of my hubby, I will definitely be making this recipe again!
This week's Monday's Mystery Recipe is Nachos Schulz from the Diane Mott Davidson book, The Cereal Murders.
Nachos Schulz
February 20th, 2012
Ingredients:
1 15 oz can chili beans in chili gravy
9 Tbsp picante sauce (I used our homemade salsa)
1 15 oz bag corn tortilla chips
4 cups grated cheddar cheese
1 avocado
1 Tbsp fresh lemon juice (I used lime juice)
1 1/2 cups sour cream
1 Tbsp grated onion (I left this out since my hubby doesn't care for onion)
4 scallions, both white and green parts, chopped
1 cup pitted black olives, chopped
1 tomato, chopped (I substituted our salsa again for this)
Directions:
Preheat the oven to 400°.  Mash the beans with 1/2 cup of the picante sauce until well mixed. I used my potato masher for this and it worked really well.  The end result resembled reddish, refried beans.
Grease 2 9x13 pans.  Place half the chips in each pan, then spoon the bean mixture over them.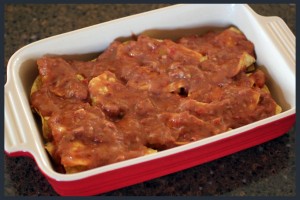 (I cut the recipe by two-thirds and only used one, 7 x 11 pan.) Sprinkle with grated cheese.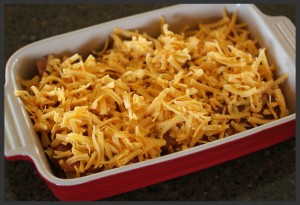 Bake for 10-12 minutes or until the cheese is melted and the beans are bubbling.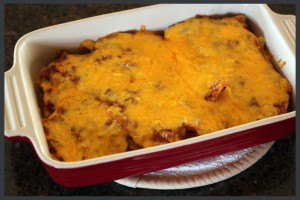 While the chips and beans are baking, peel, pit, and mash the avocado, then mix it with the lemon or lime juice, 1/2 cup of the sour cream,  the grated onion, and 1 tablespoon picante sauce. Garnish the nachos with the guacamole, the remaining 1 cup sour cream, scallions, tomato, and olives.  (I garnished mine a little differently, but you get the idea.)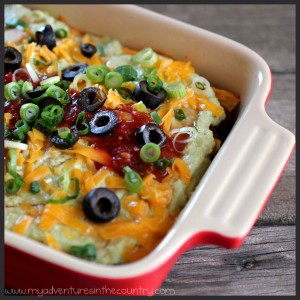 Makes 6-8 generous portions. (My 7 x 11 pan would have served 3-4 appetizer-size portions, easily.)
You Might Also Like: