Nothing says Happy Valentine's Day more than red velvet cupcakes, don't you think? I've had my eye on
this recipe from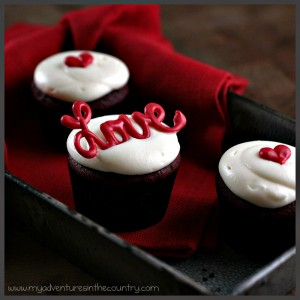 Brown Eyed Baker
for some time now, but hadn't had a chance to try it out. Three words sum it up; IT WAS AWESOME! These are wonderful cupcakes with a truly red cake and moist, tender crumb. I will definitely be making them again!
And because I've been on a red candy melt kick lately, (check out what I did with some of the decorations, here) I made some decorations to go on top of these Valentine inspired cupcakes.  If you're wanting to try this recipe, I would highly recommend it.  I have tried other recipes, but this one takes the cake…pun intended of course!
I decided to take some of the cupcakes to work, but because I have also been wanting to try red velvet ice cream, I selfishly stashed the extras in an airtight container and popped them in the freezer.  Childish, I know, but hey, I did share some of them!
So, if you're looking for the perfect recipe for red velvet cupcakes, I would suggest giving these a try.  They were truly scrumptious!
Red Velvet Cupcakes
February 14th, 2012
Ingredients:
3 tbsp red food coloring (I used McCormick brand)
2 1/2 tbsp unsweetened cocoa powder
1 tsp vanilla bean paste
1/4 cup unsalted butter, softened to room temperature
3/4 cup sugar
1 large egg
1/2 cup buttermilk
1 cup + 2 tbsp all-purpose flour
1 tsp salt
1/2 tsp baking soda
1 1/2 tsp distilled white vinegar
Cream Cheese Frosting:
8 oz cream cheese
1 stick butter, softened
3 tsp vanilla or vanilla bean paste
6-7 cups powdered sugar, sifted
Candy Melt Decorations:
1/2 - 1 pound red candy melts (depending on how many decorations you need to make)
plastic squeeze bottle or decorator bag
wax paper
Directions:
Preheat the oven to 350°. Line 14 muffin cups with cupcake liners.  In a small bowl, combine the red food coloring, cocoa powder, and vanilla bean paste.  Mix until a thick paste is formed.  Cover and set aside.
Combine the butter and sugar in the bowl of a stand mixer.  Mix on medium speed until light and fluffy.  Add the egg and turn mixer to high.  Beat mixture until well-combined, scraping sides of bowl as necessary.
Reduce speed to medium and add cocoa mixture. Mix on medium speed until combined, scraping sides of bowl as you go.  Reduce speed to low and add half the buttermilk.  Mix until incorporated then add half the flour and mix until that is combined.  Repeat the process, ending with the second half of the flour.  Scrape down the sides of the bowl to make sure all additions are well-combined.
Finally, add the salt, baking soda, and vinegar.  Beat on medium-high for 1 minute until batter is smooth.  Using an ice cream scoop or large cookie scoop, transfer batter to 14 lined muffin cups.  Bake in the 350° oven for 18-20 minutes.  Check with a toothpick for doneness.  Let cool on wire rack for 5 minutes before transferring to a cooling rack to cool completely.  Once cooled, frost with cream cheese frosting and red candy melt decorations.
Cream Cheese Frosting:
Cream the butter, cream cheese, and vanilla or vanilla bean paste in the bowl of a stand mixer.  Slowly add the sifted powdered sugar.  Continue to add powdered sugar until frosting is desired consistency.  You can add milk or cream to thin, if necessary, but I like my cream cheese frosting to be a little stiffer for decorating.  Place frosting in decorator bag with desired tip and frost cupcakes.
Candy Melt Decorations:
Place some of the candy melts in a squeeze bottle or decorator bag and melt in microwave at 5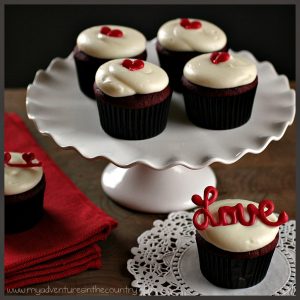 0% power for 30 seconds.  Knead the pastry bag or squeeze the bottle to redistribute the candy melts.  Continue to microwave at 50% power until candy melts are completely melted.  Be sure not to overheat them!
Once melted, squeeze into heart shapes or words for decorations. Let cool for 30-45 minutes or until completely set.  Be careful when handling - the heat from your hands will melt your decorations!
Slightly adapted from Brown Eyed Baker)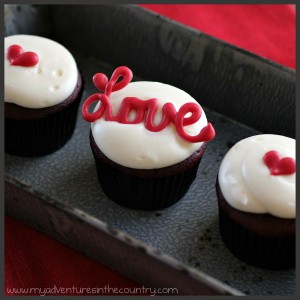 You Might Also Like: