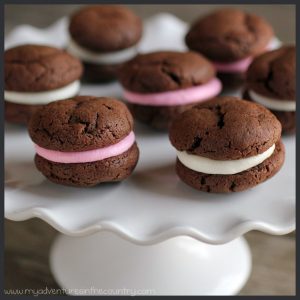 Since Valentine's Day is tomorrow, I wanted to try and find a recipe that would be well-suited for this notoriously chocolate-filled day and Diane Mott Davidson certainly made that possible with these Sweetheart Sandwiches!  I'm still reading
The Cereal Murders
and have several recipes I want to try.  One in particular will be a great recipe to share around St. Patrick's Day, so I may have to wait to share that one.
So, for this week's Monday's Mystery Recipe, I'm going to share Sweetheart Sandwiches from the book, The Cereal Murders, by Diane Mott Davidson.  These are scrumptious little sandwiches made from a rich, cocoa cookie and filled with a sweet, buttercream frosting.
I took the author's advice to vary the recipe and added a little peppermint extract and food coloring.  The frosting was just a bit sweet for my taste, so I added a bit of salt and the peppermint extract and that did the trick.
Sweetheart Sandwiches
February 13th, 2012
Ingredients:
For the cookies:
1 stick unsalted butter, softened
1 1/4 cup granulated sugar
2 large eggs
1 teaspoon vanilla extract (I used vanilla bean paste)
1/2 cup unsweetened cocoa (recommended brands: Hershey's Premium European-style, Droste, Ghirardelli) I used Hershey's Cocoa, original
2 cups flour
1/2 teaspoon salt
1 teaspoon baking powder
1/2 teaspoon baking soda
Filling:
4 tablespoon unsalted butter, softened
1 teaspoon vanilla extract (I used clear vanilla to keep my filling white)
4 cups sifted confectioners' sugar
whipping cream
1/2 teaspoon salt (My addition)
1 teaspoon peppermint extract (I doubled the recommended amount)
Directions:
For the cookies::
Cream the butter and the sugar in the bowl of a stand mixer until light in color.  Beat in eggs and vanilla; set aside. Sift cocoa, flour, salt, baking powder, and baking soda together.  Slowly stir the dry ingredients into the butter mixture.  (It will be fairly stiff at this point.) Cover with plastic wrap and refrigerator for 2-3 hours.
Preheat over to 350°.  Line 4 baking sheets with parchment paper or grease, lightly.  Using a teaspoon or a small cookie scoop, scoop dough and roll into a ball and place 2 inches apart on a cookie sheet. Bake for 10-15 minutes (I baked mine for 10 minutes), until cookies are puffed and surfaces are slightly dry and cracked.
I also got tired of rolling the dough into balls and opted to roll it out on a cutting board, lightly dusted with cocoa powder.  I figured if I was making these for Valentine's Day, they might as well be in the shape of hearts! The dough rolled beautifully and I was very happy with the results.  I did reduce the baking time from 10 minutes down to 8 minutes, since they started out thinner than the dough balls.
While cookies are cooling, prepare the filling.
Filling:
Cream the butter until light in color.  Beat in the vanilla and confectioners' sugar, adding whipping cream and continuing to beat until the consistency is like creamy frosting.  I added two cups of confectioners' sugar before adding any whipping cream and the frosting was extremely dry.  I would recommend adding at least 2 tablespoons of whipping cream after the first cup of confectioners' sugar.  I didn't measure the total amount of whipping cream I used, but it was probably close to 1/4 to 1/3 of a cup.  Remember, if you add liquid food coloring or peppermint extract, that is also extra liquid that will soften the consistency of your frosting.
After the cookies have completely cooled, spread about 1/2 tablespoon of filling on the bottom of one cookie, then top with the bottom side of another cookie.  I didn't measure my filling and I used a pastry bag to make it a little easier.
The cookies that started as balls of dough didn't flatted as much as the heart-shaped cookies I rolled, so they look a little like Weeble-Wables, but I think that just adds character, don't you? They were still tasty.
I do think the dough rolled very well, so if you are interested in making shaped cookies, I definitely recommend this dough.
And like I mentioned earlier, I did add peppermint extract to the entire batch of filling.  The author suggests 1/8 teaspoon for half a batch of filling, but I ended up adding 1 teaspoon to the whole thing.  I tasted it after the addition of 1/2 teaspoon and felt it needed a bit more peppermint and I wanted to kick it up a notch. The full teaspoon was the perfect amount.
You Might Also Like: