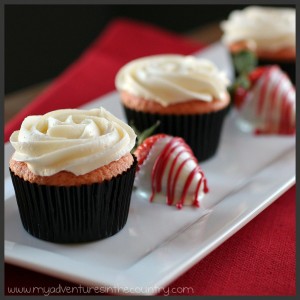 I have been meaning to make this recipe ever since I received the Summer 2011 issue of
The Baking Sheet
, King Arthur Flour's newsletter. I've been searching for the perfect strawberry cupcake recipe and I've tried several, but haven't found one I truly love.
All of the recipes I've tried call for fresh or frozen strawberries or strawberry puree, which I adore, but the problem I most often have is that the cupcakes tend to turn a bit grey when baked.  Not the most appetizing looking cupcake, if you ask me.  This recipe definitely takes away the grey factor and brings in the pink factor, as you can see from the photo.  No food coloring was added to these babies!
If you are looking for a moist and delicious cupcake to satisfy your strawberry sweet tooth, this is your recipe.  I paired mine with a scrumptious white chocolate buttercream frosting.  It was perfect and complimented the cupcakes well.  It was light and creamy and didn't overpower the strawberry flavor of the cupcakes.  And to make them even more decadent, I added a white chocolate and milk chocolate dipped strawberry, for The Ultimate Strawberry Cupcake!
Strawberry Cupcakes
February 11th, 2012
Ingredients:
2 3/4 cup all-purpose flour
1 1/4 cup granulated sugar
1/2 cup strawberry Nesquik powder
1 tbsp baking powder
3/4 tsp salt
3/4 cup unsalted butter, room temperature
2 large eggs
3 large egg whites
1/2 cup sour cream
1/2 cup strawberry applesauce
2 tsp vanilla extract (I used vanilla bean paste)
Directions:
Preheat oven to 350°.  Line 28 muffin cups with cupcakes liners.  Set aside.  Combine the flour, sugar, strawberry Nesquik, baking powder, and salt in the bowl of an electric stand mixer and whisk to remove any lumps.  Next, add the softened butter and mix until mixture becomes crumbly.  Increase the speed of the mixer and continue to mix until the crumbs start to cling together.  The mixture may or may not completely combine to form a paste and that's okay.  Mine did not.
Add the eggs and egg whites, one at a time, mixing well after each addition, being sure to scrape the bowl as you work.  Next, beat in the sour cream, applesauce, and vanilla.  Mix until fluffy, but do not over m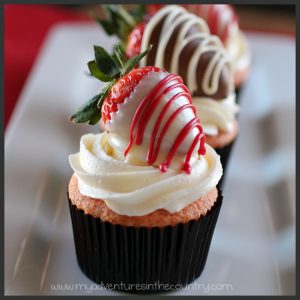 ix.
Using a medium to large cookie scoop, place batter into lined muffin tins.  Bake in 350° oven for 17-20 minutes or until a toothpick inserted comes out clean.  Cool on wire rack for 5 minutes before removing from cupcake pan.  Cool completely on wire rack.  Once cooled, frost with white chocolate buttercream and top with chocolate covered strawberry, if desired.
White Chocolate Buttercream Frosting (Adapted from Food.com)
1 cup butter, softened to room temperature
2 cups sifted powdered sugar
6 oz white chocolate, melted and cooled
White Chocolate Buttercream Frosting
Melt the chocolate in a microwave safe bowl.  I use 30 second intervals at 50% power and my chocolate is usually melted in about a minute.  Set aside to cool.  Meanwhile, cream the butter and powdered sugar until light and fluffy.  Slowly add the cooled white chocolate and mix until frosting is smooth and creamy.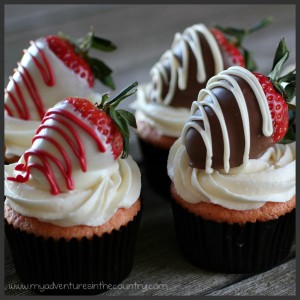 Adapted from King Arthur Flour's, The Baking Sheet
You Might Also Like: