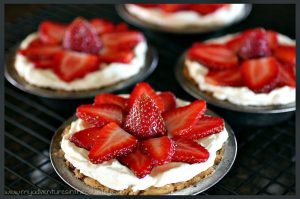 Often this time of year, I start longing for spring and all the great produce that comes with it. Especially strawberries.  When I lived in town, I had a great strawberry bed in my back yard and every May, it would produce tons of plump, luscious strawberries that just screamed to be picked.  So, I gladly picked them.  (Is it odd that now I live on 30+ acres and don't have a strawberry bed?) Perhaps we'll remedy that this spring. 😉
So, when I saw this recipe for Strawberry Super Pie in Diane Mott Davidson's, Dying for Chocolate, I knew I had to try it.  Obviously, strawberries aren't in season in Kansas right now, but as I was wandering through the produce section of my local super market, I smelled the sweet scent of strawberries and took a chance.
I admit, they don't have that juicy, fresh from the patch flavor, but they were pretty good for strawberries in January.  If I had it to do over, I think I would try frozen strawberries, as those are picked at the height of the season and would probably have given this recipe a more powerful strawberry flavor.  Overall, I was very pleased with how the pies turned out.  The recipe was actually quite easy to follow and the mini pies really took no time at all to prepare…even for four!
This week's Monday's Mystery Recipe is Strawberry Super Pie from Diane Mott Davidson's, Dying for Chocolate.
Strawberry Super Pie
January 16th, 2012
Ingredients:
Crust:
3/4 sticks unsalted butter, melted
1 1/2 cups all purpose flour
1 Tbsp confectioners sugar
3/4 cup chopped pecans
Topping:
2 pounds strawberries, divided
1/2 cup water
1 cup sugar
3 Tbsp cornstarch
Filling:
1 1/4 cups whipping cream
4 oz cream cheese, softened
3/4 tsp vanilla extract (I used clear to keep the filling pure white)
1/2 cup confectioners' sugar
Directions:
Directions for crust:
Preheat oven to 375°.  Mix the butter, flour, confectioners sugar, and pecans.  Press into a buttered 10-inch pie plate.  (I used four mini pie plates.  There is enough crust that you could easily make 5-6 mini pies.  I thought my crust ended up a bit on the thick side.)
Bake 25 minutes or until light brown.  Cool completely.
Directions for Topping:
Mash enough strawberries to equal 1 cup.  Cut the tops off the rest of the strawberries and set aside.  Place the cup of mashed strawberries and water in a saucepan.  Mix sugar and cornstarch together and add to the strawberry mixture.  Bring to a boil, stirring frequently.  Boil until mixture turns clear and thickened, about a minute.  (Mine took a little longer.)  Let cool completely.
Directions for Filling:
Whip the cream until stiff peaks form.  In a separate bowl, beat the cream cheese with the vanilla and powdered sugar until smooth and creamy.  Carefully fold whipped cream into the cream cheese mixture.  Spread filling into cooled crusts and refrigerate.
When berry mixture is cool, the pie(s) can be assembled.  The recipe calls for whole or halved strawberries to be stood on top of the cream filling, cut side down.  (Obviously, I only used one per pie and then sliced the rest.  I didn't have enough nice looking strawberries to do the whole shebang.)  When the entire filling is covered with whole strawberries, spoon cooled berry mixture over filling.  There should be no cream filling showing.  I left a little showing because I liked the contrast of colors.)  Refrigerate pie(s) until ready to serve.  Any leftover topping can be served on toast or English muffins.
Makes 8-10 large servings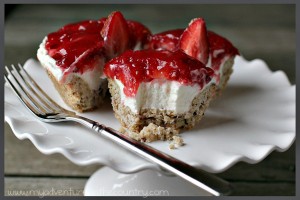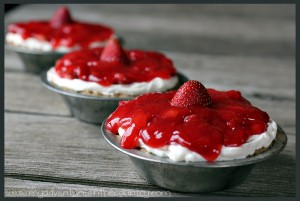 You Might Also Like: