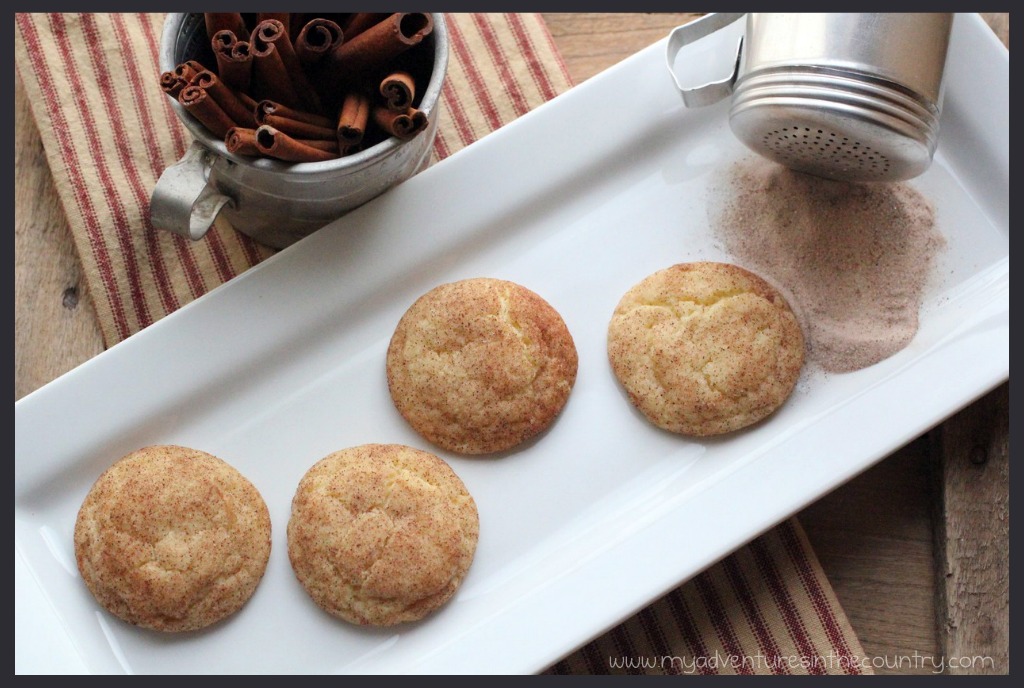 I love baking cookies.  It's a known fact. But sometimes I get tired of baking the same old thing.  Of course, the hubster has his favorites so that's what I typically make, but last year I baked gingersnaps for the first time ever.  Hard to believe, I know, but I'm a creature of habit.  I thought he would turn his nose up at them since they were very different from the usual cookies I make. But to my surprise, he loved them!
So, when a customer ordered snickerdoodles a few weeks ago, I thought perhaps he would like those too.  And you know what? He did! I only made a slight change to the recipe, not having made snickerdoodles for a while and I think they turned out pretty darn tasty.
Snickerdoodles
January 10th, 2012
Ingredients:
3/4 cup sugar
1/2 cup unsalted butter
1 egg
1 tsp vanilla
1 1/2 cups flour
1 1/4 tsp cream of tartar
1/2 tsp baking soda
pinch of salt
2 Tbsp granulated sugar
1 1/4 tsp cinnamon
Directions:
Preheat the oven to 400°.  In a small bowl, combine the granulated sugar and cinnamon.  Set aside.  This will be used to roll the dough balls in before placing them on the cookie sheet.
In a medium bowl, whisk together the flour, cream of tartar, baking soda and salt.  Set aside.  In a large mixing bowl, cream the butter and sugar together until well combined.  Add the egg and vanilla.  Mix well.  Stir in the dry ingredients until just mixed.
Using a small cookie scoop or spoon, portion the dough into small balls.  The dough will spread in the oven, so keep your dough balls around and inch or so.  Roll the portioned cookie dough in the sugar and cinnamon.  Place on parchment lined cookie sheet about 2 inches apart and bake for 10 minutes.
Remove from oven and cool on cookie sheet for several minutes before transferring to a wire cooling rack or place whole cookie sheet on cooling rack. I prefer to let my cookies cool completely on the cookie sheet. This helps to keep the cookies from losing their shape during the transfer.  If necessary, take your cookies out a minute early as they will continue to cook on the hot cookie sheet.
Makes 18 cookies
Slightly adapted from the Betty Crocker Cookbook, New Edition)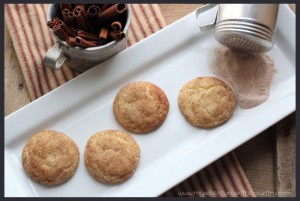 You Might Also Like: