I just finished up my latest book in the series by Diane Mott Davidson, so I'll be posting a few recipes from that while I'm starting on the next one.  It was actually the third book in her series and, in my opinion, even better than the first two! Good things are to come for Goldy the caterer, I'm sure!
So, in this week's Monday's Mystery Recipe, I'm sharing Lethal Layers, from the book, Dying for Chocolate, by Diane Mott Davidson.
Lethal Layers
January 9th, 2012
Ingredients:
1/2 cup unsalted butter
1/2 cup dark brown sugar, packed
1 cup all-purpose flour
1 cup pecan halves
2 eggs
1 cup firmly packed dark brown sugar
1 tsp vanilla extract (I used vanilla bean paste)
1/2 tsp salt
1 tsp baking powder
(additional all-purpose flour - see directions below)
1 cup chocolate chips (I used Nestles semi-sweet)  Mrs. Field's is recommended
Directions:
Preheat oven to 375°.  Combine the flour, brown sugar, and butter.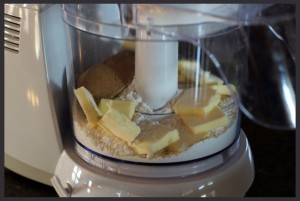 Use either a pastry blender to cut in the butter or a food processor.  (I used a food processor, but would probably use the pastry blender next time.)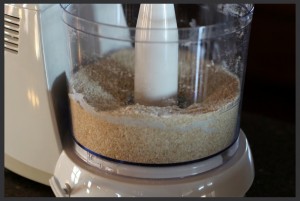 Mix until crumbly.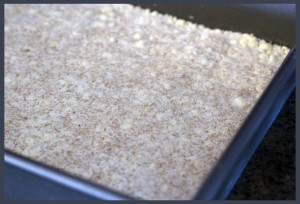 Pat crust into a buttered 9x13 pan.  Bake at 375° for 10 minutes. Let cool.
Spread pecans over cooled crust.  (I added a few more than a cup, but probably less than an additional 1/4 cup.)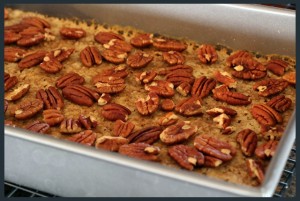 In a medium bowl, combine the eggs and brown sugar and stir until thick.  Add the vanilla.
Place the salt and baking powder in the bottom of a 1/4 cup measuring cup.  Fill the rest of the measuring cup with the flour.  (This is the additional flour mentioned above.)  Add to the egg and brown sugar mixture. Stir till well combined.
Pour mixture over the crust and sprinkle with chocolate chips.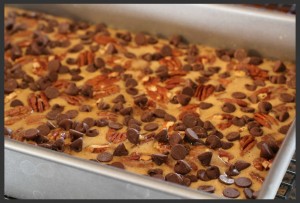 Bake at 375° for 20 minutes or until center is baked.  Let cool completely before cutting.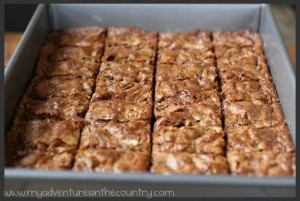 This recipe makes 32 small bars.  Don't be fooled by their size....they pack a lot of flavor.  Enjoy!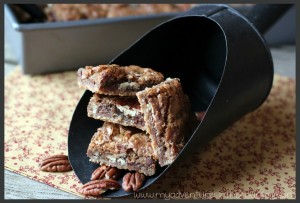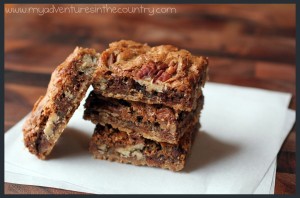 You Might Also Like: