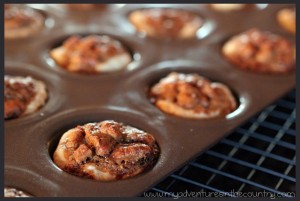 Going to my grandmother's house for Christmas was always a holiday tradition.  The smell of hot rolls baking in the oven was a constant comfort, along with all the other sweet treats she'd prepared well in advance.  And one of her all-time favorite treats at Christmas was Tea Time Tassies.  I don't know where her recipe came from, but she made a ton of them every year and we were so glad she did!
I remember the year I thought I would save Gram a ton of time in the kitchen.  One day I asked how she made those little tarts and she said she just used her thumb to press the hole in the center, then filled the indention with pecan filling.  Well, it just so happened that I knew of a little gadget that was made especially for that, so I purchased it for her for Christmas that year.
Well, if any of you have grandma's who have made Christmas treats the same way for 40+ years, you know it's no use trying to change their perfected techniques. Gram was very polite about it, but matter-of-factly, she told me her way worked a heck of a lot better than that little wooden gadget I bought for her. So, needless to say, when I'm making these little pecan pastries at Christmas time, I don't use a gadget.  I use my thumb.  Just like Gram used to do.
Cheese Pastry
December 27th, 2011
Ingredients:
1 8 oz. pkg. of Philadelphia Cream Cheese
¾ cup butter
1 & 2/3 cups flour
1/4 tsp salt
Pecan Filling:
1 Egg
¾ cup brown sugar, firmly packed
1 Tbsp. butter, softened
1 tsp. vanilla or vanilla bean paste
dash of salt
2/3 cups coarsely broken pecans
Directions:
Let the cream cheese and butter soften at room temperature.  Once soft, blend together with a wooden spoon or rubber scrapper.  Stir in the flour and salt. Continue stirring until all the flour is absorbed.  Chill for 30 minutes.  Shape pastry into 44 one-inch balls.  (I used my smallest cookie scoop, which made it go very fast.)  Place in ungreased, miniature muffin tins.  Press dough with thumb around the edges and bottom until evenly covered. Make sure to spread dough up to the edge of the muffin cup.  This helps prevent sticking when the pecan mixture boils up.
Pecan Filling:
Beat together the egg, sugar, butter, vanilla and salt until just smooth.  Divide half of the pecans among pastry-lined cups.  Add 1 teaspoon of egg mixture and top with remaining pecans.  Bake in a 325° oven for 25 minutes or until filling is set.
Cool and remove from pans.  Makes 44 tassies.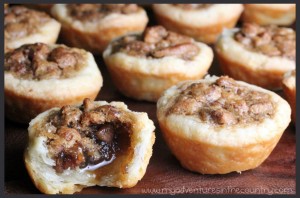 You Might Also Like: