Christmas just isn't Christmas around here without some sort of homemade goodies.  I like to make a variety of gifts for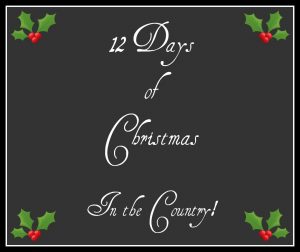 friends and family members and most are sweet, but when I found this recipe for Multigrain Pancake Mix at My Kitchen Addiction, I just knew I needed to share it.  I visit her site often and there are tons of great recipes and tips for you in the kitchen.  If you haven't been there, you must stop by.  She makes great baked goods and enjoys making things from scratch…something I love to do too!
I don't often eat pancakes because they don't tend to fill me up and all the carbs make me tired after I eat them.  What peaked my interest about these pancakes though, was the fact that they were made up of white whole wheat flour, ground oats, and a slew of other ingredients that were high in protein and fiber.  In fact, I thought so much of this recipe that I even tried it out with my kids at school.  Surely teenagers would turn their noses up at something as healthy as multigrain pancakes, right?
Well, I'm happy to report that all my students tried the pancakes and gave them two thumbs up.  We also prepared fresh fruit salads to pair with these scrumptious pancakes, just to make our breakfast even more packed with vitamins and minerals.  We had to tweak the recipe a bit because our local store didn't have white whole wheat flour, but I had the kids use half white flour and half whole wheat flour to try and keep some of the health benefits of the whole wheat flour.  I think they probably had a stronger wheat taste than they would have by using the white whole wheat flour, but I was proud of my kiddos for trying them anyway.
And, something else that's terrific about these little cakes, they freeze beautifully! The hubby isn't a big fan of pancakes, but I wanted to try the recipe before the kids did at school, so I made a batch and froze the extra.  Just 30 seconds in the microwave, turn over, and 30 seconds more and you have fresh pancakes!
I decided to give each person enough pancake mix to make three batches of pancakes and also a bottle of homemade vanilla extract!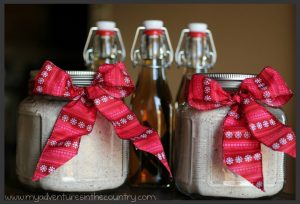 Multigrain Pancake Mix (Slightly adapted from My Kitchen Addiction)
2 cups white whole wheat flour (1 cup of all-purpose and 1 cup whole wheat can be substituted)
1 1/2 cups rye flour
1 1/2 cups ground oats
1/2 cup ground flax
1/2 cup wheat germ
1/2 cup dark brown sugar
1/4 cup baking powder
2 tsp salt
Directions:
Combine all the ingredients from above and use a wire whisk or mesh strainer to remove any lumps.  Place in an airtight container for storage.
To make pancakes add:
1 1/2 cup mix
1 cup milk
1 egg
2 tbsp canola oil
1 1/2 tsp vanilla or vanilla bean paste
Directions:
Measure 1 1/2 cups of the pancake mix into a medium bowl.  Set aside. Place the egg, oil, and vanilla in a small bowl.  Mix together thoroughly with a fork or wire whisk and pour over the pancake mix.  Mix until well-combined.  Allow mixture to rest for 5 minutes.  While mixture is resting, preheat electric griddle to 325°.  Once griddle is hot, use a 1/4 cup measuring cup to measure out batter.   Cook on griddle for several minutes until sides begin to look dry and bubbles form in the center.  Turn and continue to cook until both sides are browned.  Serve warm with a fresh fruit salad.
All you need for the homemade vanilla extract are vanilla bean pods and vodka.  Such a simple, yet useful Christmas gift for anyone who loves to bake!
Homemade Vanilla Extract: 
1 cup vodka
4 vanilla beans, split in half and scored lengthwise
Directions:
Measure out 1 cup of vodka.  If using a bottle with a narrow top, use a funnel when pouring vodka into jar.  Allow 1 to 1 1/2 inches of head space at the top and add four vanilla beans, split in half and scored, not cut all the way through.  Set jars in a cool, dark place to develop color and flavor.