This is my first Christmas with my new blog and I thought there could be nothing more exciting than trying out a little Christmas cheer with 12 Days of Christmas in the Country!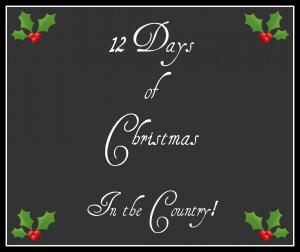 Over the next couple of weeks, I'm going to share some of my traditional Christmas treats and decorating tips that help me make it through the holidays.  They are things I do from year to year and it just wouldn't be Christmas without them.  So let's get to it!
The first recipe I'd like to share with you is one of my favorites.  For several years when I was in middle school, my family would travel to Colorado Springs for vacation.  Each time we went, we would always stop at the Rocky Mountain Chocolate Factory.  It was tradition and I always looked forward to their peanut butter and chocolate swirled Tiger Butter.  I don't know if they still have it, but it's one of my favorites and it has become one of my favorite Christmas treats to prepare each year.
This is a very simple recipe, but it tastes like you spent hours making it.  It's a great recipe to have on hand, especially when you're trying to prepare a variety of sweets in a short amount of time.  You can even make it ahead and store it in the freezer.  How simple is that!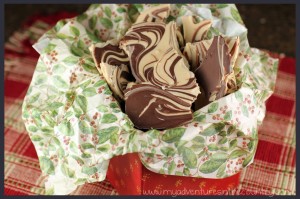 Tiger Butter (Adapted from The Spirit of Christmas Cookbook Volume 4)
1 lb white chocolate
1/2 cup creamy peanut butter
6 oz. mini semisweet chocolate chips
Directions:
Line a cookie sheet with non-stick aluminum foil or lightly grease with non-stick cooking spray.  I prefer the non-stick foil as it's easier to lift the tiger butter out of the pan when it's cool.
Next, melt the white chocolate in a microwave safe dish.  Microwave at 15-30 second intervals to make sure you don't overheat the chocolate.  Doing so wi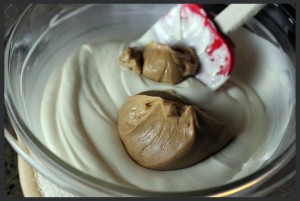 ll render it unusable.
Once the white chocolate is melted, stir in the 1/2 cup creamy peanut butter.   Set aside.
Working quickly, melt the semisweet chocolate chips in another microwave safe dish.  Stir until smooth.
Pour warm white chocolate and peanut butter mixture onto prepared cookie sheet.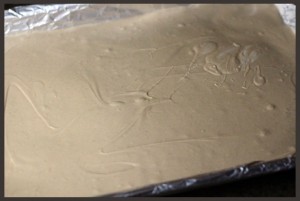 Then pour semisweet chocolate over peanut butter mixture.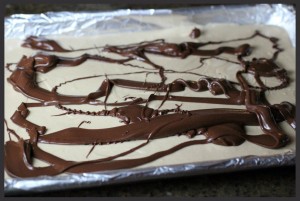 Swirl the semisweet chocolate around with a small spatula or butter knife.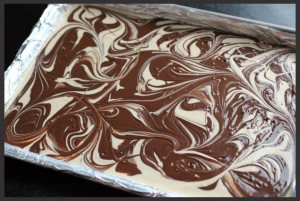 Let set until firm or put in refrigerator to speed up the firming process.
To package, remove foil from pan and break apart the mixture into random pieces.
Line container with wax paper and store in an airtight container.