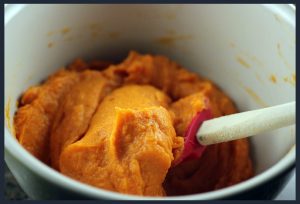 This time of year, I'm always thinking about cinnamon and pumpkin and then it hit me.  Why couldn't I try sweet potato puree in place of the pumpkin in some of my recipes? Well, there was no good reason I couldn't, so I tried it.  And it worked out splendidly. So, in order for you to enjoy the same splendor with sweet potatoes, here is a quick and easy way to make and save sweet potato puree.
Sweet Potato Puree
5-6 lbs sweet potatoes, washed and patted dry
aluminum foil
cookie sheet
Preheat oven to 450°. Wash potatoes thoroughly and prick with a fork or knife.  Wrap potatoes in aluminum foil.  (I like to double wrap mine because my homegrown potatoes always seem to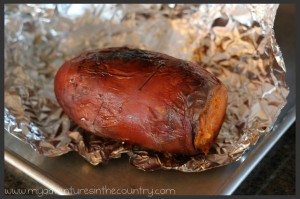 be more juicy than the store bought potatoes.)
Place potatoes on a cookie sheet, just in case any juices leak out, and bake in 450° oven for 45 min to an hour, depending on the size of the potato.  Potatoes are done when they squeeze easily between an oven mitt.
Remove potatoes from oven and allow to cool for 15-20 minutes.
Remove foil and peel skin off potatoes.  When fully cooked, the skin will peel right off! So much easier than peeling, dicing, and boiling!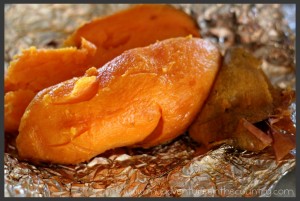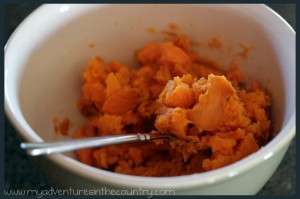 Once all the skins are off, mash the potatoes with a spoon or fork and use a food processor or immersion blender to puree the sweet potatoes.
Leftover sweet potato puree may be stored in the refrigerator for several days, or for long-term storage, place in the freezer.