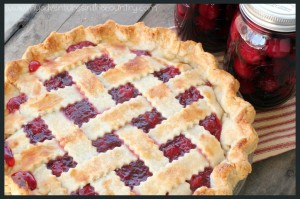 I love pie. I can't help it. It's just one of those sweet comfort foods that reminds me of Grandma's house on Thanksgiving or Christmas.  This is my go-to recipe for cherry pie.  It's my favorite because it's simple and basically just lets the flavor of the cherries shine through. Sour, tart, delicious! I hope it will become your favorite too!

For the filling (Adapted from the Ball Blue Book of Preserving)
10 cups tart cherries, washed and pitted
3 cups sugar
1/4 cup + 2 Tbsp cornstarch
Mix the cherries, sugar, and cornstarch together in a large bowl and let set for 30-45 minutes.  You want enough juice from the cherries to dissolve the sugar and cornstarch.
Transfer to a large pot and cook over medium heat until thick.  Allow the cherry filling to cool for 30 minutes or so before adding to your bottom crust.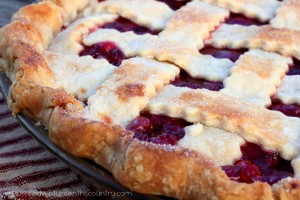 Super Easy Pie Crust (Makes enough for a double-crust pie)
Prepare pie crust and add cooled cherry filling.
Add your top crust and bake in a 375° for 45 min. to an hour. Cool on wire cooling rack for 2 hours.
And of course, serve with vanilla ice cream for a real treat!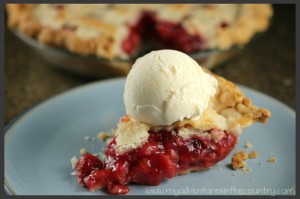 "Come join Love the Pie with TidyMom  sponsored by Cherokee USA, Le Creuset, Wilton, Bags by Bloom and  Harvard Common Press"